Professional turf laying service in London done to a high standard
Get your real or artificial lawn installed by competent landscapers
Various types of turves for your garden needs
Fresh, long-lasting results with a free watering plan
Reduced ground pollution and improved quality of air
Complete hassle-free service - from delivery to installation
How we perform the real turf laying service?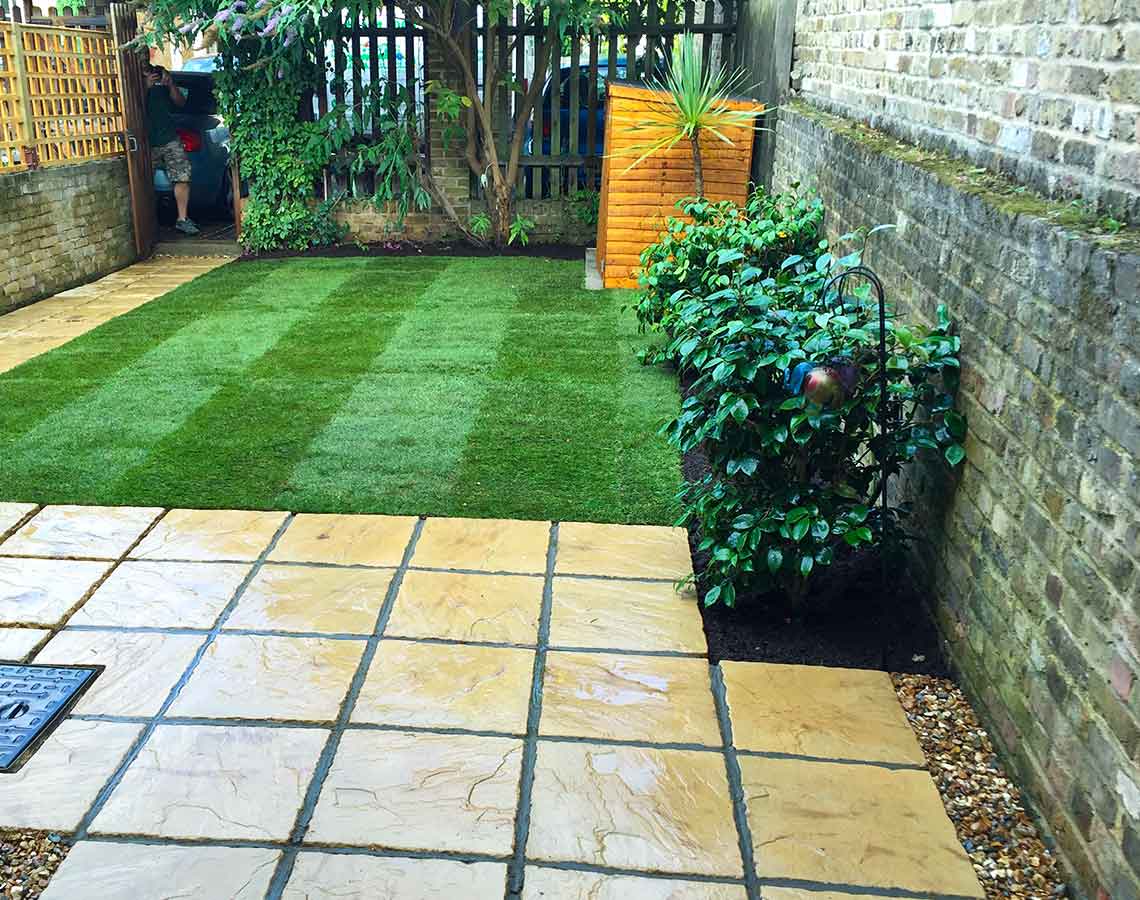 No two gardens are alike. That's why we take into account factors such as drainage, sunlight, and your garden's layout to ensure that we recommend and lay the perfect turf for your space.
Whether you're aiming for a low-maintenance lawn or a lush oasis, our lawn installation professionals can help you achieve your gardening goals.
This is what to expect and how it is all done:
Preliminary site clearance - The Fantastic team will, first, clear the surface from weeds, old turf, plants, debris, rocks and stones. They can also remove any hard surfaces, such as decking, pavers and slabs.
Levelling - The next step includes site levelling where needed. The landscapers will add or remove soil to level any uneven patches or reduce the gradient of a slope.
Adding topsoil - The perfectly levelled ground will be covered with a layer of topsoil, for optimum turf roots establishment.
Turf laying - The specialist will lay the turf rolls, without gaps in between rolls to get that uniform lawn look.
Lawn edging - The landscaper will form the edges neatly to achieve an aesthetic result that fits with the rest of your garden features - flower beds, rockeries or patio.
Free expert advice - You will receive a free maintenance plan on when to water the lawn, how often to cut the grass, and so on!
Thinking of installing artificial turf instead of real?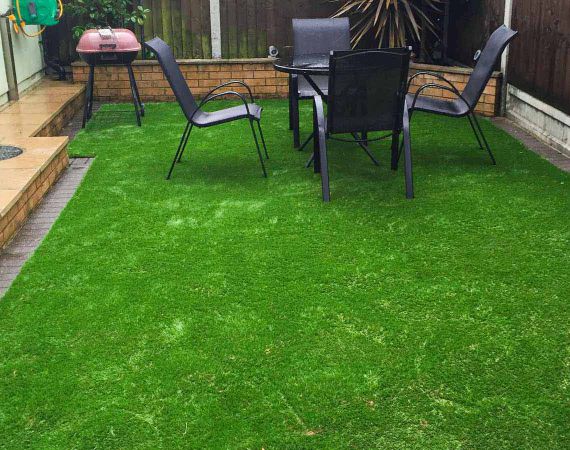 BEFORE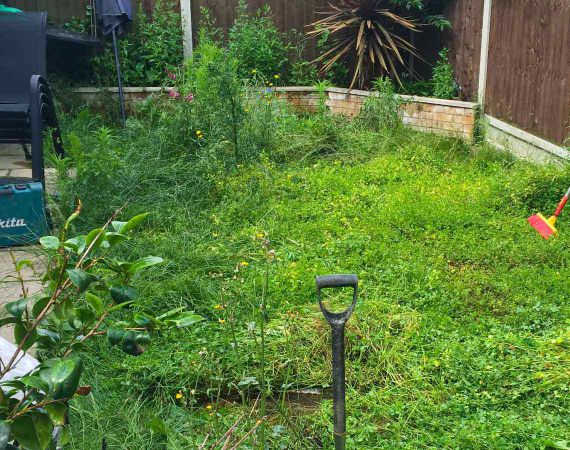 AFTER
Artificial grass is the perfect low-maintenance alternative for people who want to have a lawn without the need of a Sunday mow. It is appropriate for travellers and other individuals who lack the time for lawn care, but still want to enjoy the lush green. It is also very pet and child-friendly.
Fantastic Gardeners have successfully installed artificial grass thousands of times and are confident that we can handle all aspects of your project. We would be happy to discuss your ideas in detail.
Here is what you can expect from your artificial grass installation service:
Site Clearance of weeds, plants, debris and other materials.
Levelling - The landscaping team will remove or add soil if necessary, add hard base and sand, and will compact it.
Laying anti-weed membrane - Weed growth prevention is important to consider when laying new fake turf, so an anti-weed membrane will be laid to make sure weeds won't grow through your new fake lawn.
Stability - In order to provide more stability to your new fake turf, the specialists will install a frame of joist. They will also add sharp sand to it afterwards to keep it fixed to the ground.
Artificial turf installation - Due to the wide range of fake turf types, your new artificial lawn might be installed using adhesive to make sure it will stay in place. But in some cases, silica sand application will be enough to fixate it. The surveyor will let you know which method will be used for your project.
Book your hassle-free service in 4 easy steps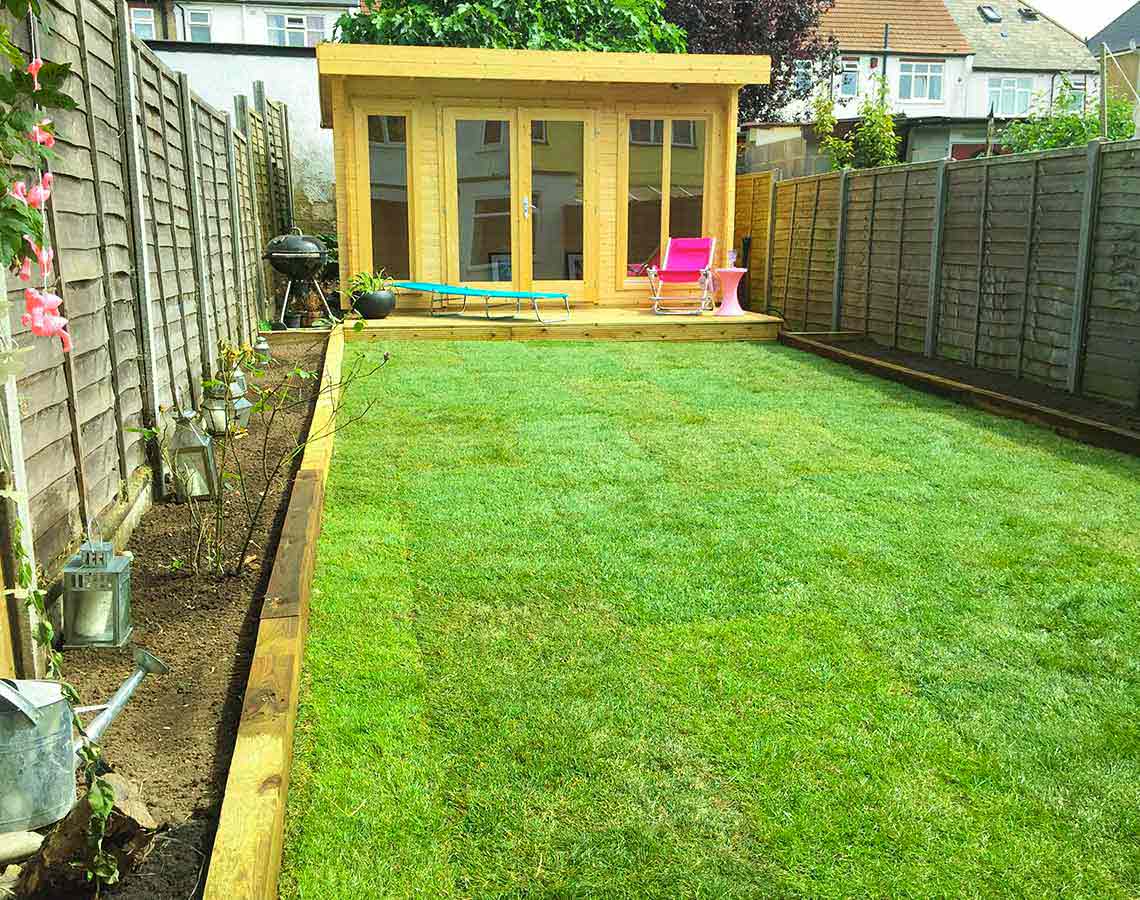 Schedule a survey, use the online booking form and fill in your details and requirements.
A surveyor will come to measure the site, discuss your turfing service and estimate the workload and the complexity of the job.
Within 3 to 5 working days, you'll be presented with a price quote, which includes material and labour costs.
Upon agreement with the project price, we'll book the service for a day of your convenience.
Join our Fantastic Club and get great deals on the services we offer. You will be able to take advantage of preferential rates all year round. Enjoy other benefits such as priority booking options or our real-time arrival tracker through your Fantastic Club account.
Frequently asked questions
How often should I water my newly laid turf?
This depends on the weather conditions and the type of turf you've had installed. We will provide you with a free watering plan to make things easier for you.
When is the best time of the year to lay a new lawn?
The best time to do so is in autumn or late winter. As long as there's no frost and it's not too wet outside, you can schedule your professional turf laying service. Yet, there is a wide range of turf varieties that can be laid in spring and summer months in the appropriate weather conditions.
How much does turfing cost?
Well, all turfing projects differ due to various factors such as surface size, turf type and necessary topsoil volume. They will be taken into account when estimating the overall price of your project so the final cost will depend on those.
Does my garden need to be levelled before the service?
It can take less time to complete your turf laying project if the site is levelled and well prepared. This will have an impact on the price as well, but if soil preparation is needed, the landscapers will take care of it. Feel free to discuss these details with the specialist on-site during the survey.
Why should I install artificial grass?
It is a low-maintenance, time-saving and long-lasting option for your outdoor area. If you are not into watering or lawn mowing, then fake turf is the right choice for you.
How should I take care of my fake lawn?
Fake grass care is quite simple, in fact. All you have to do is clear any fallen leaves off of it and brush it often to keep it nice-looking.
Does artificial grass get slippery after raining?
As long as there is proper drainage, the water will escape through the fake grass and won't cause such problems. We, at Fantastic Gardeners, use high-quality astroturf which doesn't get slippery in bad weather.
How much does artificial grass installation cost?
Each landscaping project is unique and requires different tasks that need to be done. The final cost of your project will be calculated based on several factors. The condition of your outdoor space, the complexity of the project, fake turf amount, ground preparation, type of turf and infill will all be considered. After one of our landscapers visits you at your property, you will receive a final quote.
After the turf has been laid, how soon can I walk on it?
We recommend not walking on your turf for 4 weeks after laying new turf. The longer you leave it to 'settle' the better, as this allows the turf roots to grow and become established, giving a better result. Please note, you should mow your turf on a high setting 2 weeks after it's been laid to further aid establishment.
Can you lay turf on top of grass?
Laying new turf on top of existing grass is possible, but the results will not be as good in the long term. New grass will grow over old turf; however, your lawn's health will deteriorate over time as the old lawn dies. For optimal results, you should remove your old lawn before laying new turf.
My lawn is a mess and I think it needs returfing but it is just a tiny area. Will you take on jobs like this?
We at Fantastic Gardeners can deal with all types and sizes of lawns. Certainly, we have the experience to assess the work involved and give you an estimate reflecting the amount of effort the job requires.
Can you offer any other outdoor services?
It doesn't matter if you need assistance with patio cleaning, decking repairs or installation, or quality fence installation, we can send the right expert.
Have a specific gardening or plant-related question?
If so, click on "Ask now", submit your question, attach the appropriate images and press send. Your question will be forwarded to one of our Fantastic Gardeners who will get back to you with an answer ASAP. )
Local Areas Fantastic Gardeners Cover
Some thoughts from our clients