Improve your privacy with expert fence installation in London
Installing and repairing all types of fences
Quote, delivery, and installation in one package
Wide variety of fence types and posts available
Quality weather-proof materials
Experienced & fully equipped landscapers
Quality garden fence installation service in London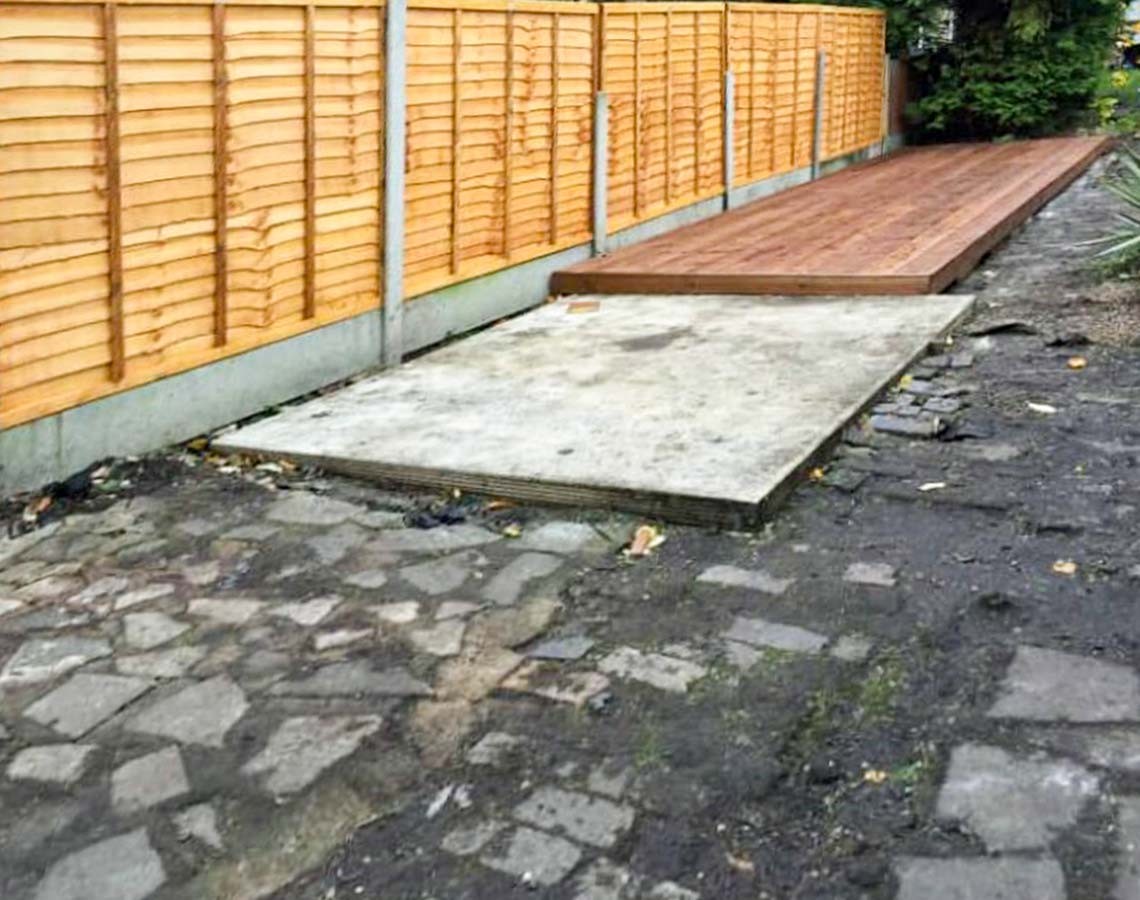 There are many reasons to have a garden fence installed:
provide privacy from nosy neighbours or give extra security for your family and pets;
no longer corresponds with your existing garden design or you've never had a proper fence installed;
Whatever your reasons for wanting a new garden fence, we'll work with you to find the perfect solution for your needs.
Fantastic Gardeners works with a wide range of fence panels that you can choose from. If you are unsure about what you need, you can always discuss the matter with the landscaping surveyor on site and he will advise you on the best solution according to your requirements. We can easily arrange the supply, delivery and the installation process.
Installation and repair of all types of garden fences
The skilled garden fence installers have years of experience working with a wide range of fences including:
Overlap fences
Closeboard fences
Picket fences
Larchlap fences
Brick fences
Aluminum fences
Full range of fence repair and installation services for your property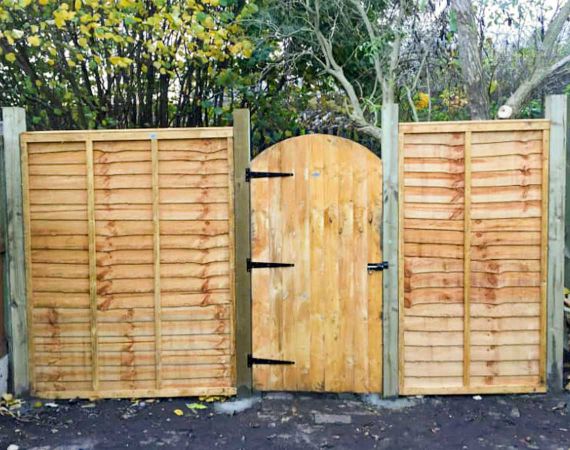 BEFORE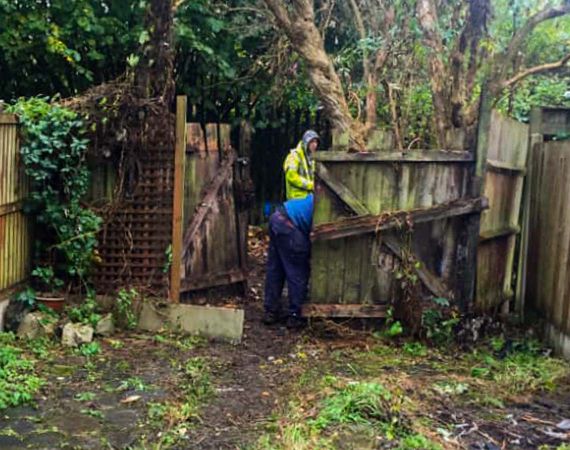 AFTER
In addition to fence installation, you can also contact us if you have any of the following requests:
Emergency fence repair or replacement - after a heavy storm or winter wind, repairing the fence or replacing broken panels can make a big difference;
Repair of fence posts

- If your old wood or concrete fencing posts have fallen over, are broken, or are leaning under the weight of the panels, it's time to replace or repair them;

Trellis installation services – we can erect a variety of trellis designs and also advise on and supply the appropriate plants for them;
Trellis repair - we can assist you with repairs and replacement of old trellis panels;
Wooden gates repair and installation - whether you need a decorative gate or more secure one, we can help.
Repairs of pergolas, arbours and other wooden garden structures;
Decorative elements

- Besides trellises, we can also install different styles of fence caps. They will fulfil the whole design of your property;

Fence painting, staining and oiling(protection)

– your new fence can be painted or stained, and we are here to help.
Note: The fence installation experts we work with can also install aluminium and wooden gates, and deal with all kinds of wooden constructions for your garden.
How our fence installation service in London usually goes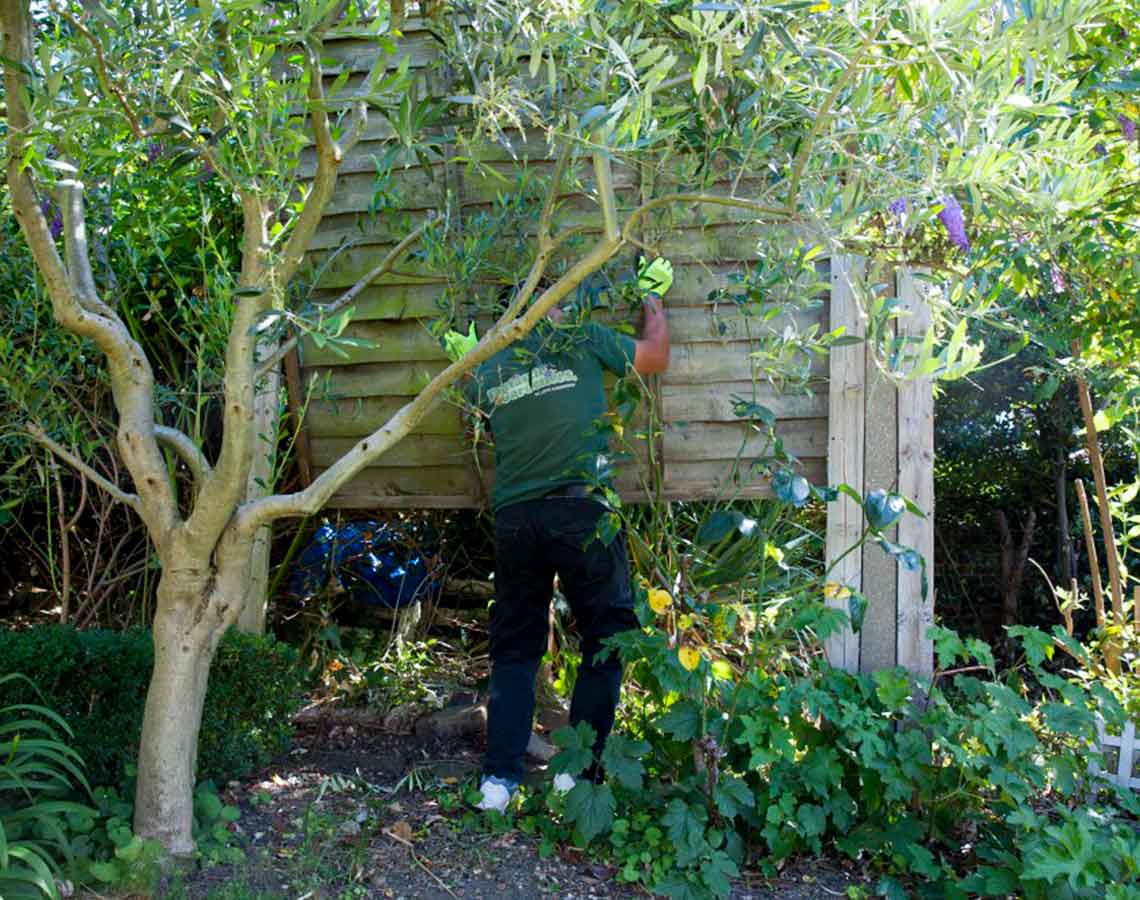 First, you need to schedule a survey and tell us what you need to be done – do you need a whole new fence installed or just some repairs on your old one? For some small fence repairs and fence panel replacements, we might be able to give you a quote based on photos alone, so it's a good idea to send us some. You can do this at checkout in our online booking form.

If the photos you send to us don't give enough information, we will send a surveyor to your property. He will take all the required measurements and carefully examine the area. You can talk through your ideas about the project, too.

Your quote will be ready and sent in 3 to 5 working days. It will describe in detail labour price and the cost of all fencing materials.

If you are happy with the quote, we will then schedule your appointment and a team will come to your property to finish the job.
Note: Make sure to attach quality photos of your property. This is necessary because, as mentioned above, we might be able to give you an exact quote based on them and save time.
Why choose our garden fencing service in London?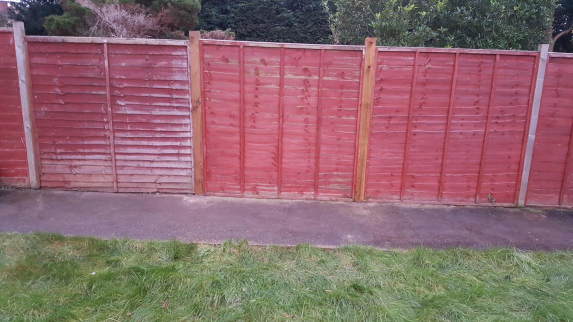 BEFORE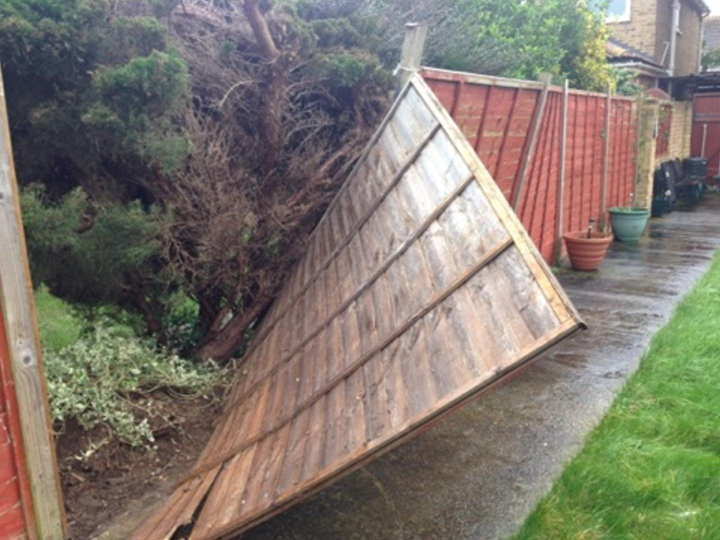 AFTER
Complete solutions
Whether you are building a new fence, repair the old one or just need a panel replacement, we will arrange everything for you. Get a personalised quote and leave the professionals do the rest for you. They can supply and deliver all materials required for your fence installation or repair project.
Emergency garden fencing repairs
Whether you you have to repair the last night's strong wind's damages or the fence is no longer serving you well - we are here to help you. The fencing service includes the repair or replacement of broken or damaged fence panels, boards or posts or the installation of new fence.
Experienced professionals
The skilled landscaping specialists are well equipped with all the right tools and use high quality, weather resistant fencing materials. Get your garden fence installed by fully vetted, and DBS checked experts. They are ready to visit you any day of the week, regardless of the weather.
Frequently asked questions
Q: Do I need planning permission to put a fence up?
A: You should check with your local council for all the regulations in your area. You don't need planning permission for fences up to 2 metres.
Q: How high can I put a trellis?
A: They are a great addition to any fence, but you should take into account that trellis high is also included in the 2m rule for max fencing height before planning permission is needed.
Q: How long will it take you to install a fence?
A: It depends on the type of the fence, the amount of work that's needed and the complexity of the project.
Q: How can I maintain my new fence in a good condition?
A: Staining and regular painting can significantly increase durability. They will protect the wood and its natural oils from harsh weather conditions like heavy rains, extreme cold, or strong sun.
Q: How much does it cost to put a fence up around my yard?
A: All prices are per project. After an on-site viewing and consultation with our experts about the type of panels you want, how tall and long you need the fence, you will receive a written quote with the final price of the job.
Q: Who owns a fence between two properties?
A: The ownership and responsibility of a fence depend on which property it is assigned to. A common way to guess who's the owner is to assume that the neighbour gets the 'good' side of the fence. There is no certain rule about who owns the left or right side of the fence, but If you can check the ownership documents, there should be T and H marks that clearly resolve the dispute.
Q: Can I repair a neighbours' fence that is falling into my garden?
A: You may be wondering if it's okay to repair your neighbor's fence that is falling into your garden. The answer is, it depends. If you have their permission, then you are free to repair the fence yourself. However, if you don't have their permission, your attempt to help will be considered trespassing. Another solution is to build a new fence in your property, parallel to the broken one.
Q: Do you have a guarantee for the fence installation and repairs?
A: Customer satisfaction is our top priority, and in the event of any issues with the service, our team will work to resolve the matter as quickly as possible.
Q: How often should you replace a wooden fence?
A: Owning a property requires replacing old structures like wooden fences. To ensure that the fence is kept in good condition, it's advisable to plan for replacement every ten years. Fantastic Gardeners offers an excellent solution for those times when you need maintenance or repairs done on your fence with professional services and competitive rates.
Q: When a fence is damaged, who is responsible for the repairs?
A: Typically, it is the responsibility of the owner to take care of any fence repair issues. However, when it comes to party walls and fences, both neighbours share responsibility for maintenance.
Q: Can I paint my garden fence?
A: If both sides of the fence are on your property, you can paint them. However, if one side is in your neighbour's garden, you can only paint your side of the fence. When the fence that separates your property from your neighbours is owned by them, you will need to ask for their permission before making any alterations, such as painting it.
Q: Do I need to re-stain or seal my fence regularly to maintain its condition?
A: To keep your fence in good condition, it's important to stick to the manufacturer's guidelines. Yet when it comes to wood fencing, it is usually advised that it should be stained every five years and the sealer reapplied every two or three.
Q: What is the best time of year to install a fence?
A: Fences can be installed at any time of year, but weather can affect installation times. Spring and summer are often the busiest seasons for fence installation.
Q: How much does fencing cost?
A: When it comes to fence installation costs, each project's specifics are taken into consideration. After a survey of your property, you will be provided with a comprehensive quote breaking down all necessary components, such as material and labour fees.
Have a specific gardening or plant-related question?
If so, click on "Ask now", submit your question, attach the appropriate images and press send. Your question will be forwarded to one of our Fantastic Gardeners who will get back to you with an answer ASAP. )
Some thoughts from our clients
Learn more about fencing and fence installation