Improve your privacy with expert fence installation in London
Installing and repairing all types of fences
Wide variety of fence types and posts
Quality weather-proof materials
Personalised quote after a survey
Experienced & fully equipped landscapers
Why choose our garden fencing service?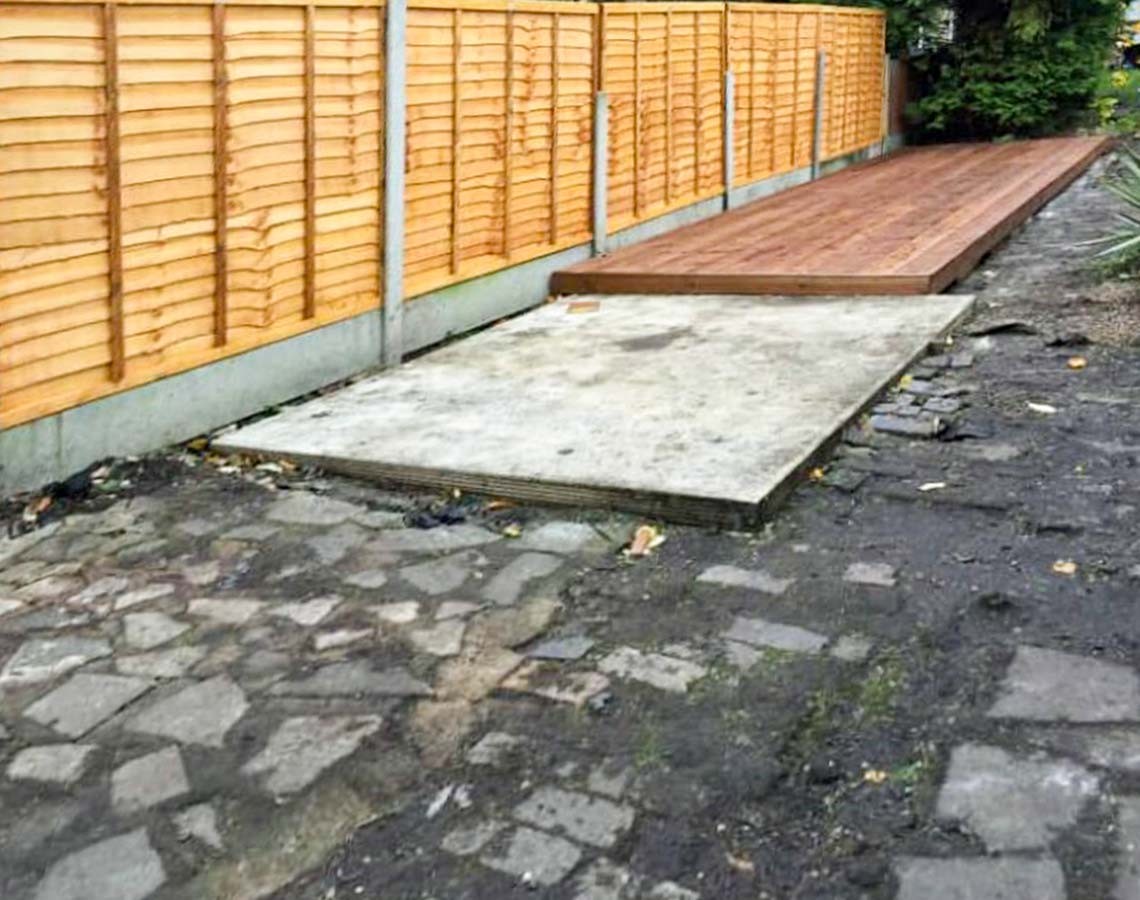 Before you invest in a new fence, you need to think about the purpose it's going to serve:
Are you looking for a bit more privacy from your neighbours?
Or do you feel like you need extra security?
Fantastic Gardeners works with a wide range of fence panel models that you can choose from. If you are unsure about what you need, you can always discuss the matter with the landscaping surveyor on site and he will advise you on the best solution according to your requirements. Here is a list of the most popular fence types that we install:
Overlap fences
Closeboard fences
Picket fences
Larchlap fences
Brick fences
Aluminum fences
Other fence issues we can help you with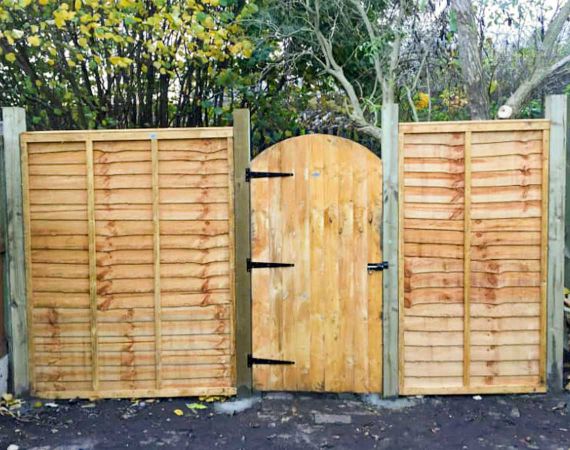 BEFORE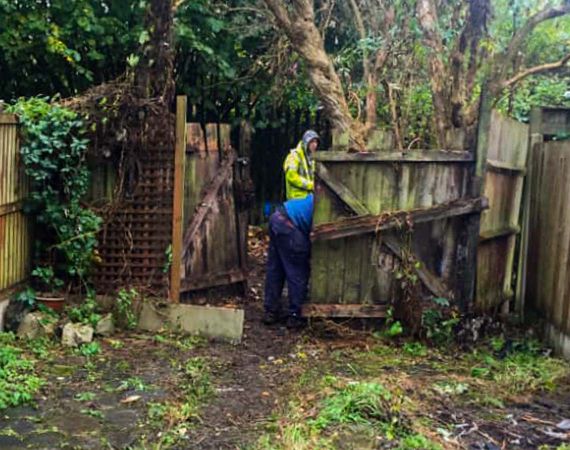 AFTER
In addition to fence installation, you can also contact us if you have any of the following requests:
Emergency fence replacement or repair after heavy storms;
Repair of fence posts;
Trellis installation – we can erect a variety of trellis designs and also advise on and supply the appropriate plants for them;
Repairs of pergolas, arbours and other wooden garden structures;
Besides trellises, we can also install other decorative elements to your fence, such as different styles of fence caps. They will fulfill the whole design of your property.
Here is how a fence job is usually done: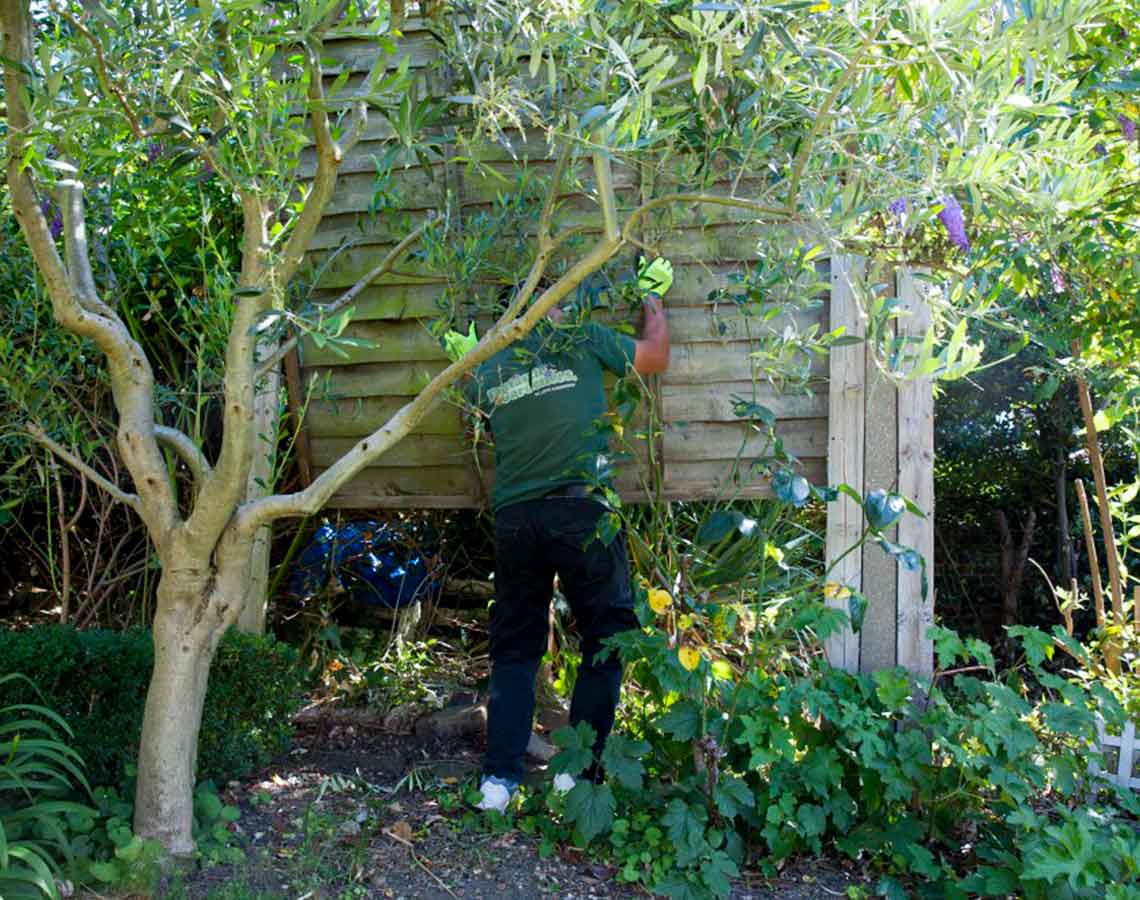 First, you need to schedule a survey and tell us what you need to be done – do you need a whole new fence installed or just some repairs on your old one? For some small repairs and fence panel replacements, we might be able to give you a quote based on photos alone, so it's a good idea to send us some. You can do this at checkout in our online booking form.
If the photos you send to us don't give enough information, we will send a surveyor to your property. He will take all the required measurements and carefully examine the area. You can talk through your ideas about the project, too.
Your quote will be ready and sent in 3 to 5 working days. It will describe in detail labour price and the cost of all materials.
If you are happy with the quote, we will then schedule your appointment and a team will come to your property to finish the job.
Note: Make sure to attach quality photos of your property. This is necessary because, as mentioned above, we might be able to give you an exact quote based on them and save time.
Frequently asked questions
Q: Do I need planning permission to put a fence up?
A: You should check with your local council for all the regulations in your area. You don't need planning permission for fences up to 2 metres. If you want to install trellises above the fence, they should not exceed 2 metres as well.
Q: How long will it take you to install a fence?
A: It depends on the type of the fence, the amount of work that's needed and the complexity of the project.
Q: How much does garden fence erection cost?
A: All prices are per project. After an on-site viewing and consultation with our experts about the type of panels you want, how tall and long you need the fence, you will receive a written quote with the final price of the job.
Q: How can I maintain my new fence in a good condition?
A: Staining and regular painting can significantly increase durability. They will protect the wood and its natural oils from harsh weather conditions like heavy rains, extreme cold, or strong sun.
Have a specific gardening or plant-related question?
If so, click on "Ask now", submit your question, attach the appropriate images and press send. Your question will be forwarded to one of our Fantastic Gardeners who will get back to you with an answer ASAP. )
Some thoughts from our clients
Learn more about fencing and fence installation