Reliable decking services in London
Decking installation, repair, staining and oiling
Using high-quality decking materials
Guaranteed property value boost
Performed by equipped decking contractors
Garden lights installation is also available
Types of decking we can install for you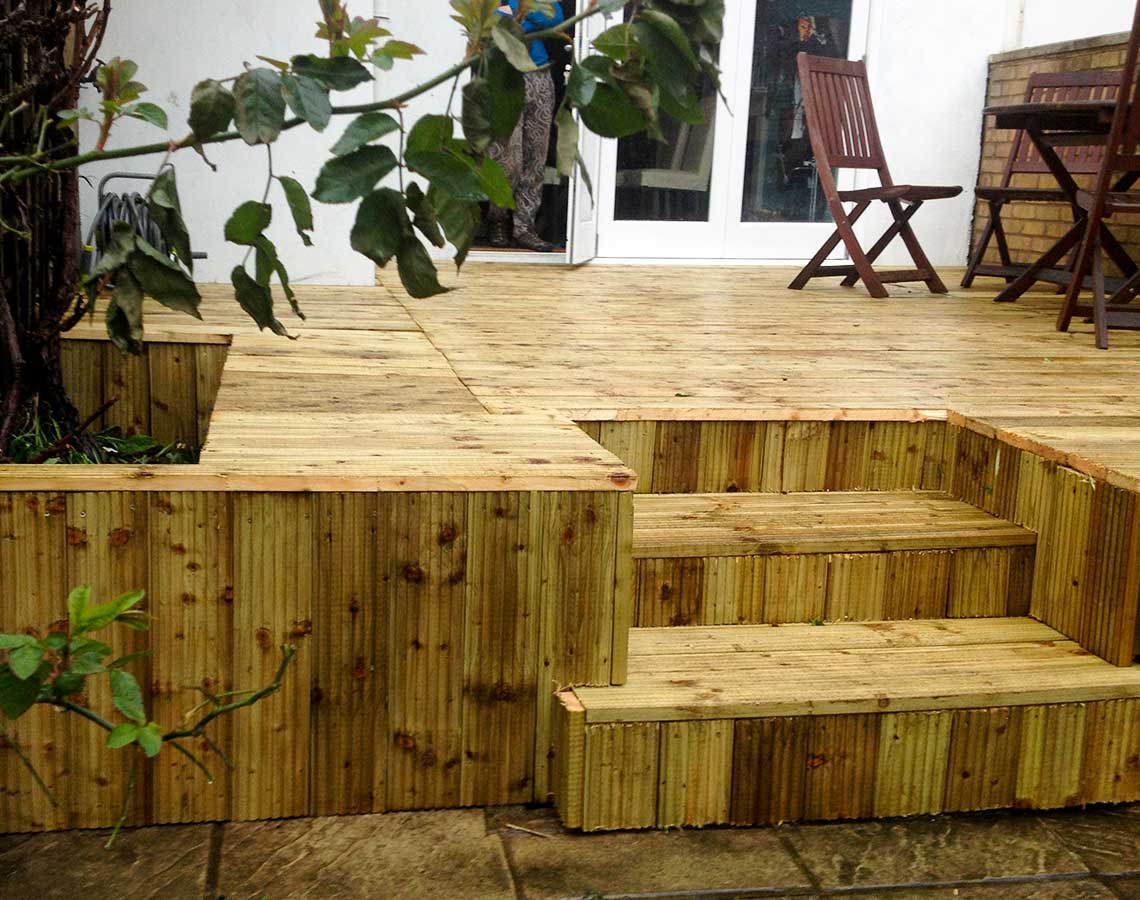 Softwood and hardwood deckings are both types that can give a natural character to any outdoor area. They can be sanded and oiled if damaged, but with proper maintenance, your new garden construction can last up to 30 years. Softwood decking boards tend to be more affordable than hardwood materials, so if you are on a budget, this could be the perfect option for you.
Composite decking boards are made from a mixture of wood particles and plastic, making your new fabulous outdoor feature water-resistant and anti-slippery. It's a low-maintenance alternative to the classic decking boards and regular jet washing is all it needs to keep it looking brand-new. Mould, fungi and rot won't be a problem you'll have to face with composite decking. Oiling and staining won't be necessary, either, so if all this sounds great to you, hire the Fantastic Gardeners to transform your garden.
Other decking services we offer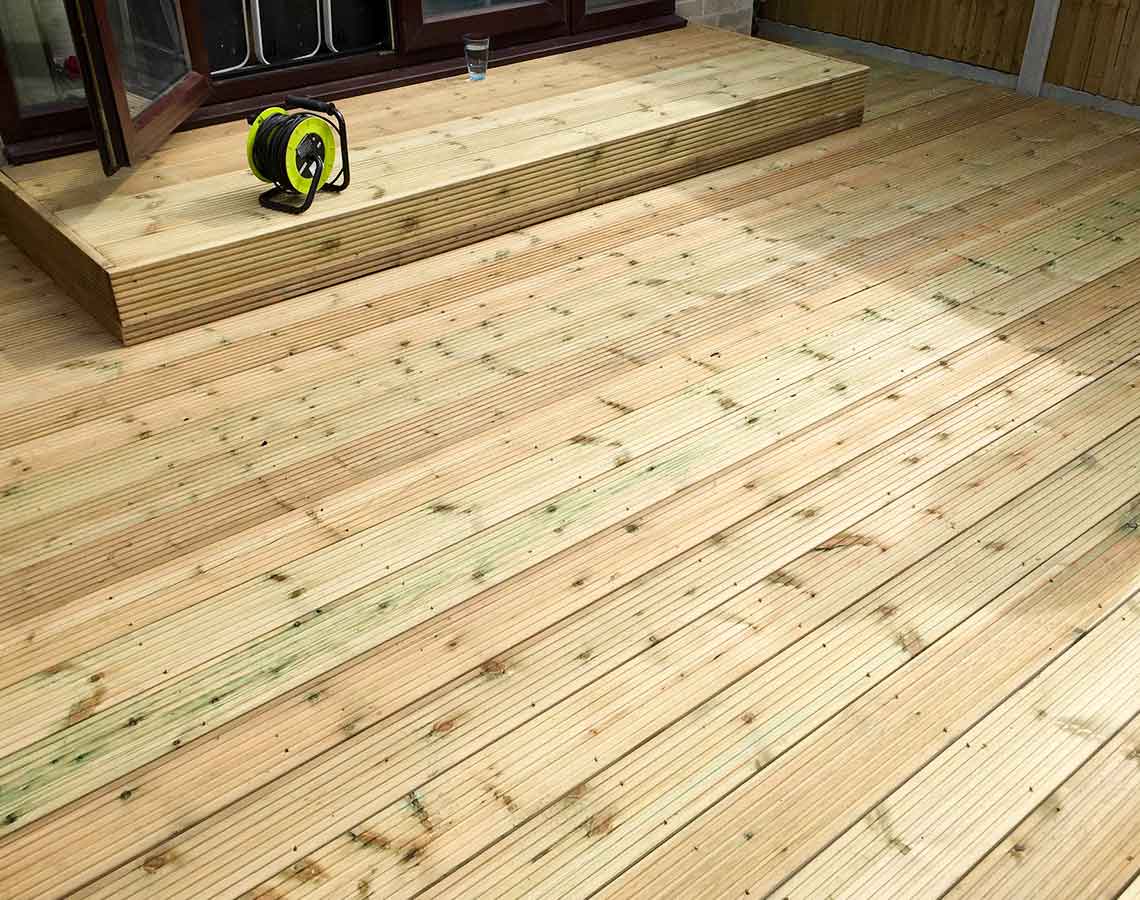 Take your garden decking area to a higher level by adding garden lights to it. We can install them around the area, or we can embed them in the boards, to emphasize the area. Of course, we can install garden lights in other areas of your garden, too.
If you already have a decking, but it has broken boards, we can help you replace or repair them.
And if you have a decking with worn-off and discolour boards, we can help you restore it. We offer pressure washing cleaning, oiling and staining services which will restore the original look of your wooden deck. You can also count on us if you need reliable fence installation near you.
Here is how the garden decking service is done: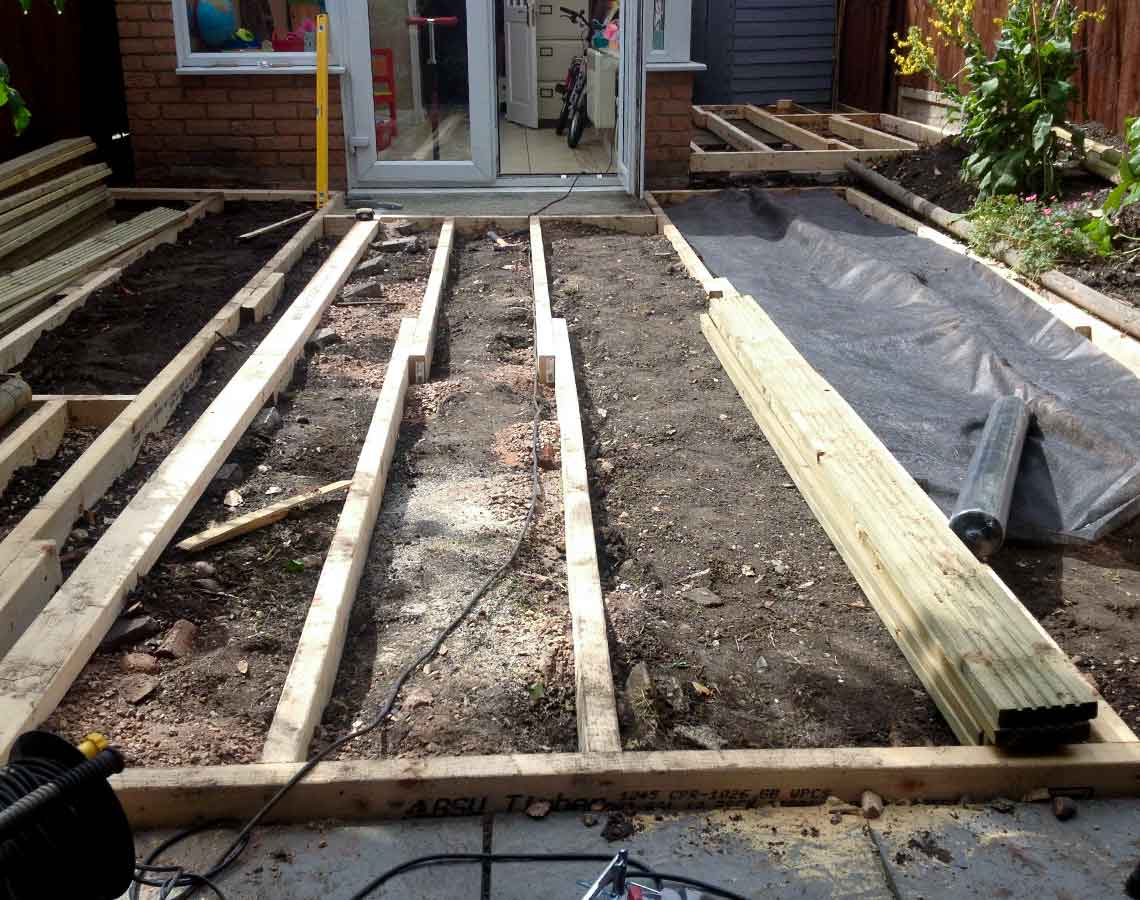 Make a survey appointment via our online booking form or the GoFantastic app.
An expert landscaper will arrive at your property to take the necessary measurements and discuss your decking design ideas.
The specialist will calculate the cost of the required materials and labour that your project will involve. You will receive a detailed quote via e-mail within 3 to 5 days.
If you are happy with the price of the project, we can schedule an appointment for the actual decking service at your property in London.
It's decking installation time! We will bring the necessary equipment as well as the materials, upon your request. In case your presence at your property is not possible, please make sure you provide the team with access to your garden and a parking spot nearby.
Inspect the job and enjoy your new garden decking!
And if you want to make some savings on this service, you can always join our Fantastic Club. As a member, you will get amazing perks like priority booking for our most wanted time slots, and of course - preferential rates for the whole range of services for a year.
Frequently asked questions
Q: Do I need planning permission to build a deck?
A: You don't need a planning permit as long as your decking's height is no more than 30cm, it's not within 20 metres of a motorway and it doesn't cover more than 50% of the garden area. We suggest you always consult with your local council before undertaking any construction.
Q: My garden is sloped. Can I still have a decking?
A: Absolutely! It's even easier to build a deck on a slope, so it won't be a problem for us.
Q: How long will my deck last?
A: Deckings are built from high-quality wooden or composite materials. With proper maintenance and care, your deck should last between 15 to 30 years before it needs any repairs.
Q: Can you install lights on the decking?
A: Yes, we do offer garden lighting installation service. We suggest you use LED lights as they are energy-efficient and don't heat up.
Q: Where else can you install outdoor lights?
A: We can install garden lighting systems onto decks, patios, along pathways and driveways, on stairs, and fences. Let us know what your ideas are and leave the rest to us.
Q: Why should I consider an outdoor garden lighting installation?
A: Security, safety and accentuating on your garden features are the main reasons why this is a good decision to make. By illuminating certain dark areas of your outdoor spaces, you'll prevent burglars from entering your property. It also makes it safe for you and your family to walk in your garden when it gets dark.
Q: Is it safe to walk on a wet decking?
A: Yes, it is. Just remember to regularly clean it from surface deposits such as moss, algae and mildew. Give your decking a good pressure washing twice a year to keep it clean and well-maintained.
Q: Some of my decking boards are chipped or broken. Do you offer deck repair services?
A: Certainly! We offer an outdoor repairs service where we tackle such projects.
Have a specific gardening or plant-related question?
If so, click on "Ask now", submit your question, attach the appropriate images and press send. Your question will be forwarded to one of our Fantastic Gardeners who will get back to you with an answer ASAP. )
Some thoughts from our clients