Expert garden maintenance in Manchester
Make Your Garden the Talk of the Neighbourhood
Competent & skilled teams of gardeners for maximum efficiency
High-end petrol-powered equipment & professional gardening tools
Flexible bookings, 7 days a week, no matter the weather
Free disposal of up to one black bin bag of the generated green waste
Bring Out the Colours of Your Garden with the Manchester Experts
Let us show you our green fingers while meeting your budget!
Fantastic Gardeners has provided professional gardening services in the UK since 2009. We work with versatile teams of professional gardeners in Manchester who boast specialist knowledge and practical gardening multiskills. They do the hard work with a smile, whether it is general garden maintenance, lawn care or expert pruning.
The specialists are also experienced in garden clearance solutions that help transform completely your overgrown green space. In addition, we offer jet-washing services, designed to spruce up your hard exteriors. They are provided at no minimum charge when combined with a gardening service.
With us, you can count on:
Choose from Our Rich Palette of Gardening Services
Whether you need a one-off gardening service in Manchester or regular maintenance of your outdoors, we can provide you with a range of solutions to suit your individual circumstances.
Garden maintenance
Lawn care
Weeding and Pruning
Jet Washing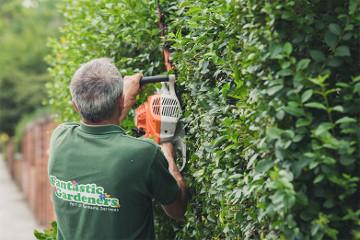 You may be on a busy weekly schedule or simply lack the skills and the right equipment… Fantastic Gardeners is here to help! We will send a team of two seasoned gardening specialists who will follow your instructions closely. They've got the tools and experience to complete the tasks within the recommended booked time. Also, we'll take away the generated green waste for free, as long as it doesn't exceedone black bin bag. If you want us to dispose of more than one black bin bag of garden refuse, you will be charged £4 for each 90l bag, £5 for each additional 120l bag, £6 for each 180l bag, or £50 for a jumbo bag.
Garden Maintenance Includes:
Regular visits in rain and shine
7 days availability, including public holidays
A range of gardening tasks:

Grass cutting/strimming
Leaves raking
Hedge trimming
Weeding
Garden Clearance Solutions:
Untamed jungles - turned into green havens
Overgrown vegetation - cut back/cleared away
Bramble/shrubbery clearance
Unkempt hedges - trimmed and shaped
Wild grass plots - transformed into pretty lawns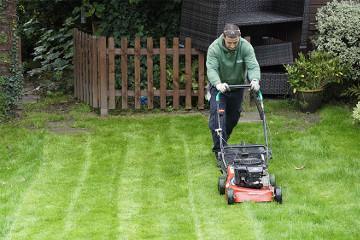 Taking care of your lawn is always therapeutic and rewarding. But how many of us have the time and the enthusiasm to do it as regularly as they should? The task can soon become a chore and this is where we can help you.
Fantastic Gardeners Manchester can provide you with regular lawn mowing and edge trimming services, which come with the following perks:
Experienced gardening technicians - applying diligence, patience and strong attention to detail to maintain your lush lawn in top condition;
High-end petrol mowers and trimmers - no access to electricity needs be provided for the service to take place;
Flexible booking options - we also offer out-of-hours appointments, including weekends and public holidays;
Competitive hourly rates - request an additional gardening task, as long as it can be completed within the number of hours you have booked.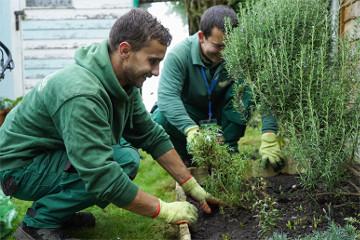 Let's admit it! Weeding can become tedious and backbreaking, especially with the frequent Manchester rain that brings on weeds galore. With us, you can rely on effective weed removal solutions at hourly rates. So, whether you prefer it done the old fashioned way or you require a weed killer treatment for your driveway, we can help.
Weeding and Pruning
The service is completed according to your requirements, keeping all your flowers, herbs or veggies safe.
All unwanted vegetation from rockeries, flower beds and paved areas is removed manually or via special tools.
Weed killer treatment for pavements, patios and driveways is available upon request and at a small extra charge.
Pruning and Trimming:
The gardeners operate with petrol-powered equipment, so they won't need electricity. The service covers the following tasks:
Messy and untidy hedges are expertly trimmed and shaped.
Rose bushes, shrubberies and berry bushes are professionally pruned.
Tree branches (no higher than 5 m) can also be pruned.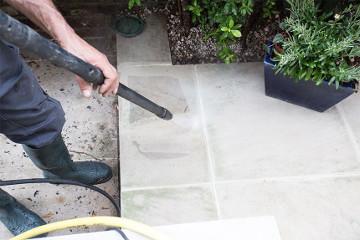 For the improved look of your exterior hard surfaces, Fantastic Gardeners offers professional jet washing services.This is an eco-friendly service that doesn't use any detergents but only water under high pressure. The pressure-washing method not only enhances the overall look of your property but also extends the life of your garden features and protects your investment for longer.
The jet wash is suitable for:
Concrete driveways;
Tiled garden pathways;
Brick pavements;
Stone patios and wooden deckings;
Walls of up to 2 metres high and garden furniture.
Please,note that the qualified technicians will need to confirm with you the preliminary quote estimate on site, based on the precise measurement of the area that needs cleaning. Furthermore, access to water and electricity are important requirements for the service.
It removes successfully:
Dirt, sand and dust;
Mould and algae;
Young weedlings and moss;
Flaky paint remnants.
Check out Our Prices
| Team | 1 hour (Min charge) | Subsequent hours |
| --- | --- | --- |
| 2 gardeners | £68 | £50 |
All gardeners work in teams for maximum efficiency;
Professional equipment is provided for each job;
All machinery is petrol-powered, so we don't need electricity;
Gardeners always dispose of one black bin bag of green waste for FREE;
You pay for the actual time spent on-site. No hidden charges!
Kind, insured and experienced professionals.
| Price per m2 | Minimum charge |
| --- | --- |
| £3 | £60 |
Completely eco-friendly service - no detergents used, only water;
Technicians bring all nozzles to connect to water source;
Not an hourly-based service. We stay until the job is done;
Minimum water usage;
Guaranteed WOW effect;
No minimum charge when the service is combined with gardening;
THE FANTASTIC STANDARDS FOLLOWED BY TRUSTED LOCAL GARDENERS & OUR SERVICE COVERAGE
Fantastic Gardeners works with experienced, hard-working and dedicated franchisees who follow our Fantastic Standards very strictly. They will provide you with the ultimate service experience. All the local gardeners are insured and well-trained to offer high-quality gardening services in the following areas:
Some thoughts from our clients