Professional hedge trimming and pruning in London
Experienced gardeners to trim, shape and cut all sizes of hedges, bushes and shrubs in your London garden
Book this service to develop or maintain formal or informal hedges
Price includes 2 gardeners for speed and efficiency
All equipment required to complete the work is supplied
Cost is inclusive of up to one black bin bag of green waste disposal
Get exclusive slots with Fantastic Club
Hedge trimming in London for all types of hedges

All hedges need regular care to keep them lush and healthy. Formative hedge pruning, required in the first two or three years after planting focuses on stimulating healthy, balanced growth. Maintenance hedge trimming for established hedges prevents them from getting too big and ensures that they have an attractive shape. Hedge trimming services in London are offered for all types of hedges, including the following:
Beech - Formative pruning of beech hedges is generally required in early and late summer. Mature beech hedges are cut back in winter if required.
Privet - Young privet hedges benefit from regular trimming through spring and summer to encourage branching at the base and root development.
Boxwood (Buxus) - Needs formative pruning at least twice a year, generally in June and then either August or September.

Laurel - Requires formative pruning in July or August. Avoid late pruning as tender shoots can be damaged by harsh winter weather.
Cypress hedges - Leylandi needs trimming up to three times a year. It's important not to cut into bare wood as the leaves won't regrow.
Evergreen hedges - Most evergreen hedges are best trimmed in late autumn or early winter. Pruning times vary depending on the specific species.
Mixed hedgerows - Individual specimens within mixed hedgerows must be pruned or trimmed according to their specific requirements.
It's not necessary that your plants be lined up in a row in order for you to take advantage of professional hedge pruning or hedge trimming services in London. Book experienced gardeners for individual bush or shrub trimming and pruning too. Get back the good look of your garden with expert garden maintenance services near you!
What happens when you book professional hedge trimming in London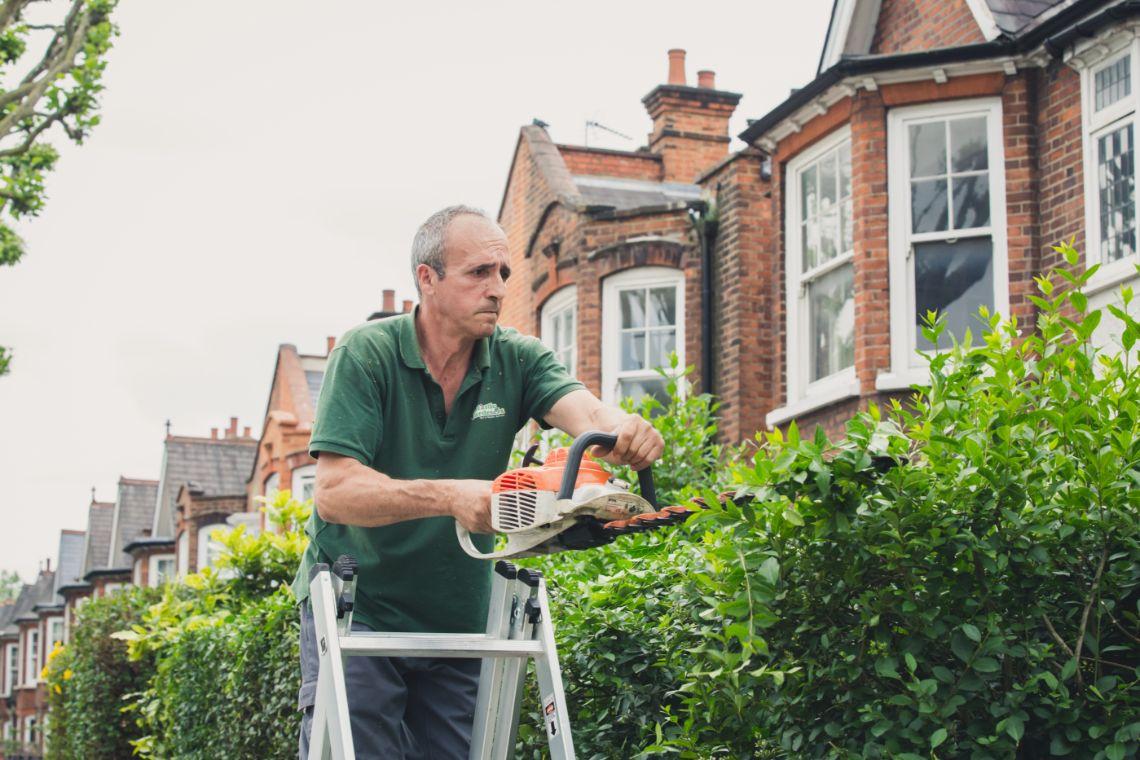 Before booking hedge trimming or pruning we do ask that you check for bird nests in the hedges you require work on. Your gardeners will double-check before starting work. If there are active nests you can rebook your service for a later date when the chicks have fledged.
Your gardeners need a parking place close to your property as they bring various pieces of heavy or bulky equipment to complete their work. If the team can gain access to your garden without coming through the house you can request a totally contactless service.
Hedges are pruned or trimmed according to your requested size and shape, with care taken to ensure that any dead, diseased or dangerous branches are removed. All the trimmed material is swept and bagged. The removal of up to 180 lt of green material is included in the cost of your service, if you need more waste taken away a small extra charge will apply.
Regardless of whether you've requested pruning for hedges or for individual bushes or shrubs, the service is completed in much the same way. All plants of less than 4 metres high can be pruned. Specimens taller than this will require the attention of our tree surgery team.
Frequently asked questions
What height can the hedge trimmers work to?
This service is suitable for hedges, bushes or shrubs up to 4 metres high. Work above this height has to be completed by qualified tree surgeons.
Are there any laws around hedge maintenance?
You're legally required to ensure that your hedges or large plants are kept in a safe condition so they don't present a danger to people or neighbouring property. There are also wildlife protection laws that apply when cutting large plants or hedges. This is why we can't work near active bird nests for example.
I have a hedge on the boundary between my property and my neighbour - who is responsible for it?
You and your neighbour are jointly responsible for the hedge. You have to keep your side of it in good condition, they theirs. If you have good relations with your neighbour and can arrange for all the work to be done at the same time this is likely to be more cost-effective for both of you.
When is the best time to have formative or cosmetic trimming or pruning done?
This depends on the type of hedge and the precise work required. You can check our page on trimming different types of hedges if you need a visual guide to identify yours. If you're still unsure just book an initial consultation.
Have a specific gardening or plant-related question?
If so, click on "Ask now", submit your question, attach the appropriate images and press send. Your question will be forwarded to one of our Fantastic Gardeners who will get back to you with an answer ASAP. )
Some thoughts from our clients
Learn more about hedge and shrub trimming
Read more maintenance tips
Useful info from our blog about hedges