Expert tree felling and removal services in London
Using top-quality equipment and safety gear for the seamless removal of dying or dangerous trees!
Experienced team of certified arborists
High-end tree surgery equipment
Emergency tree felling services available
Easy online booking & real-time availability
What can you expect from our tree removal service?

There are a number of reasons that you may have, in order to book a tree removal service. Whether the woody plant poses a danger to people or buildings, or you require more space to proceed with your new property extension, you can confidently entrust the job to us. The tree surgeons we work with will arrive equipped with all the tools for the job. They will use the most suitable method for felling the tree in the safest manner. The local tree fellers will abide by all relevant safety standards and regulations in the process. They will securely cut and remove the tree, as well as clear the ground from debris and fallen branches. The disposal of the tree is subject to an extra charge, however.
Sectional tree felling
Tree removal through sectioning and dismantling the plant a piece at a time is called for when the site offers limited space, in most cases. The method is applied for medium and large trees, which would pose a threat to their surroundings if cut at the base. Tree section felling requires precision and skills so that the risk of damage or injury is brought to a minimum. With the use of rigging techniques and equipment, the arborists will first cut and remove all the more manageable branches. Larger ones may need to be lowered first with lowering ropes before being cut off. The trunk will be cut into several parts, which will be removed one at a time. The job can be done only by licensed tree removal specialists. We can also help you remove the stump of the cut tree.
Straight tree felling
Straight tree felling in urban settings like London is somewhat more rarely applied as a tree removing technique. Still, arborists do use this method for smaller woody plants or medium ones (if the space around the tree allows it). The job involves cutting the tree at the base and removing it in a controlled manner. To do this as safely as possible, the tree surgeons use ropes, slings, and wedges so that the tree falls down in the desired direction. Note that, upon request, we can cut the tree into firewood and dispose of it in this sustainable way.
Emergency tree felling services in London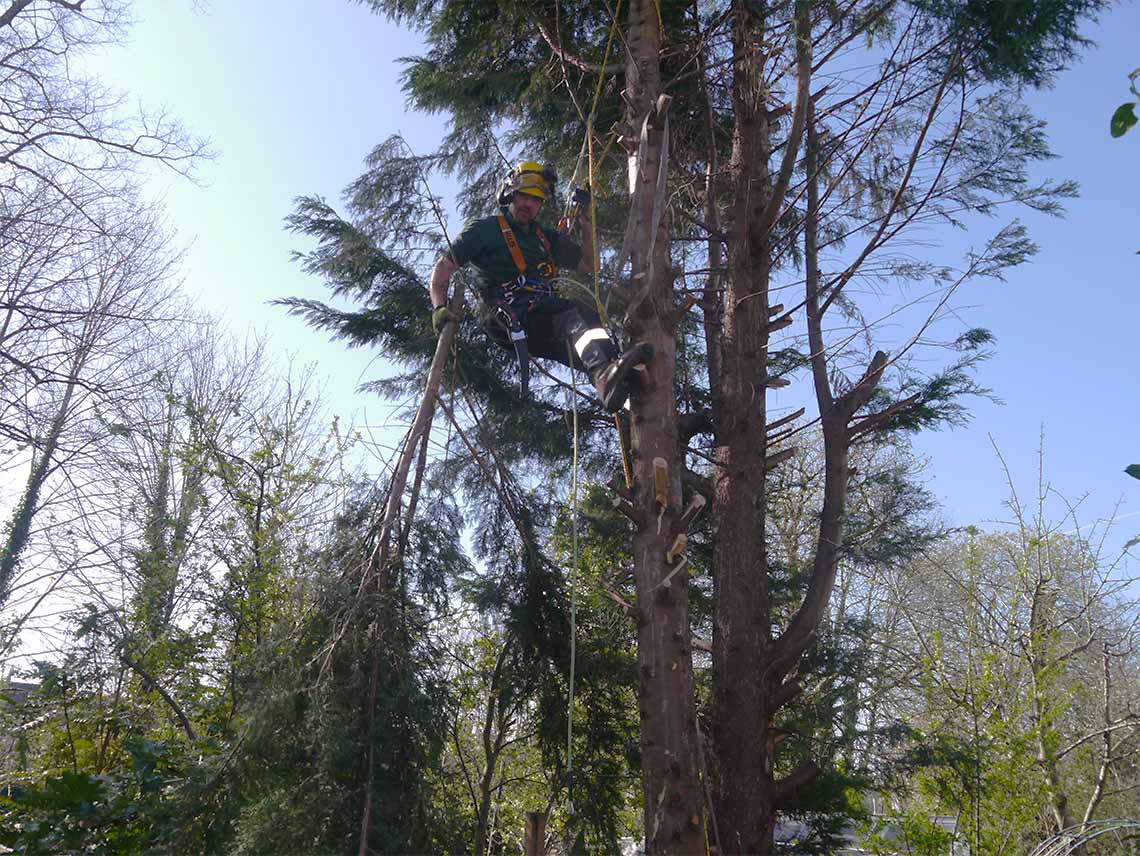 As mentioned above, there could be various reasons that call for the removal of a tree. Some of them can be classed as a matter of urgency, due to the risks that the tree may pose to people, buildings, vehicles and utility infrastructure. Have a look below at some of the scenarios that require prompt tree removal actions:
Dying or dead tree - The tree is suffering from dieback or another disease and cannot be saved, as well as it poses an immediate danger.
Smothering tree - Other trees cannot thrive because of an invasive, fast-growing specimen, although, this is a rarity in the UK.
Noxious tree - The tree is particularly toxic to people and animals (again, not a very common occurrence in the UK).
Obstructive tree - The woody plant is an undesirable obstacle for various reasons.
Hazardous tree - The tree branches or roots can cause structural damage to your property and utility lines, or is dangerous to people.
The legal aspects of a tree felling and removal service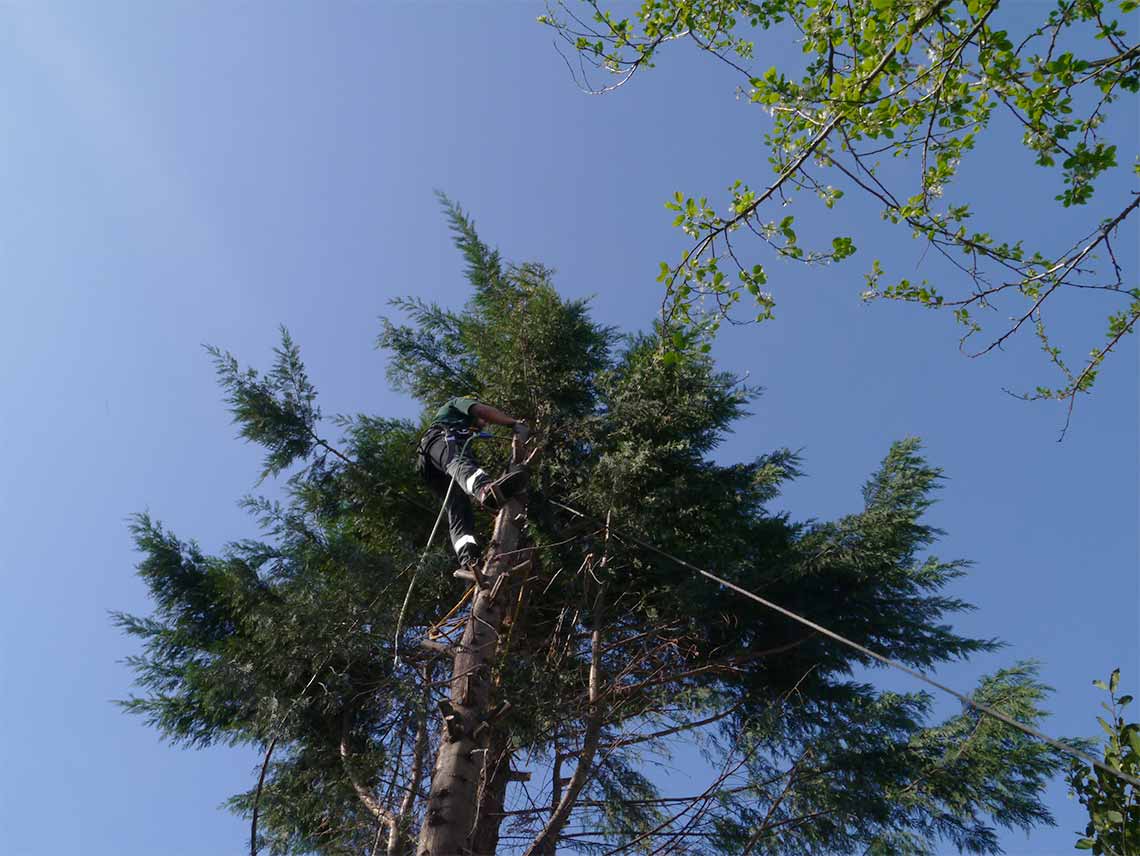 Certain trees are protected by a TPO (Tree Preservation Order). Or they may be growing in a Conservation area, which means that you cannot touch them without permission from the local authorities. If the tree is dead or dangerous, restrictions do not apply, as long as you've gathered the evidence that this is the case prior to the service and you've notified the council about your intentions to fell and remove the tree.
Whatever your case is, please, ensure that you've obtained all the necessary papers and permits from your local council's Arboricultural (Tree) Officer and/or Planning Department before you book a tree removal surgeon with us.
Frequently asked questions
How do you ensure the safety of your tree felling service?
The arborists we work with are extremely experienced in removing trees, especially in restrictive spaces. Rest assured that your property will be comprehensively protected during the felling process, as well as that any adverse impact on the landscape will be minimized.
Will you load and discard the tree once it's been cut down?
Upon request and subject to additional costs, we can remove and dispose of your tree in the most appropriate manner. If you wish, however, the tree surgeons can turn the tree into useful firewood, too.
What about the unsightly stump that's been left behind?
Worry not about the stump, as we also specialise in stump grinding and removal services, so you can request this job to be done, as well.
Do I need to do anything specific before the service takes place?
Please, make all the provisions for the service to go ahead by notifying your local council in advance and obtaining all relevant permits should your tree fall into the TPO/Conservation area category. In addition, please, contact the respective utility service provider, should the tree (or its branches and roots) be positioned near power lines and underground utilities.
Can I remove a tree from my garden?
Yes, you can, as long as your tree does not have a Tree Preservation Order (TPO), or is not in a conservation area. Any tree work you do on rented land must also be approved by your landlord. It may be necessary to obtain a tree felling license from the relevant government department to remove trees outside your garden.
Have a specific gardening or plant-related question?
If so, click on "Ask now", submit your question, attach the appropriate images and press send. Your question will be forwarded to one of our Fantastic Gardeners who will get back to you with an answer ASAP. )
Some thoughts from our clients