Certified and fully-equipped tree surgeons in London
Tree pruning, crown shaping, stump grinding & more
Free quote for tree surgery based on photos
Packing & green waste removal available upon request
Service can be combined with gardening
Preferential rates with the Fantastic Club
A list of all the tree surgery tasks we can perform

Tree pruning - we can reduce the size of a tree, so your garden can get a bit more sunlight. Also, annual pruning is important for the health of your trees because it makes their stumps and branches stronger and promotes new growth.
Crown shaping - if you happen to own a tree with overgrown, interlaced branches, the professional tree surgeon can give it a more uniformed shape.
Tree removal - The professionals will cut down the tree, starting from the top, reducing its size until they are able to cut the actual trunk. After that, the arborists can grind or level down the leftover stump.
Tree felling - This service is similar to tree removal. The procedure is tailored for sick, dead or dangerous trees, which might cause damages.
Emergency tree work and deadwood removal - We can take care of fallen down, broken branches or whole trees after heavy storms and strong wind without keeping you waiting.
Stump grinding - left-over stumps from cut trees take place. With this service, you can get them levelled with the ground and removed.
Ivy removal - if the ivy in your green space has gotten out of control and is higher than 4 metres, our local tree services in London can take care of it.
How a tree surgery service with us goes by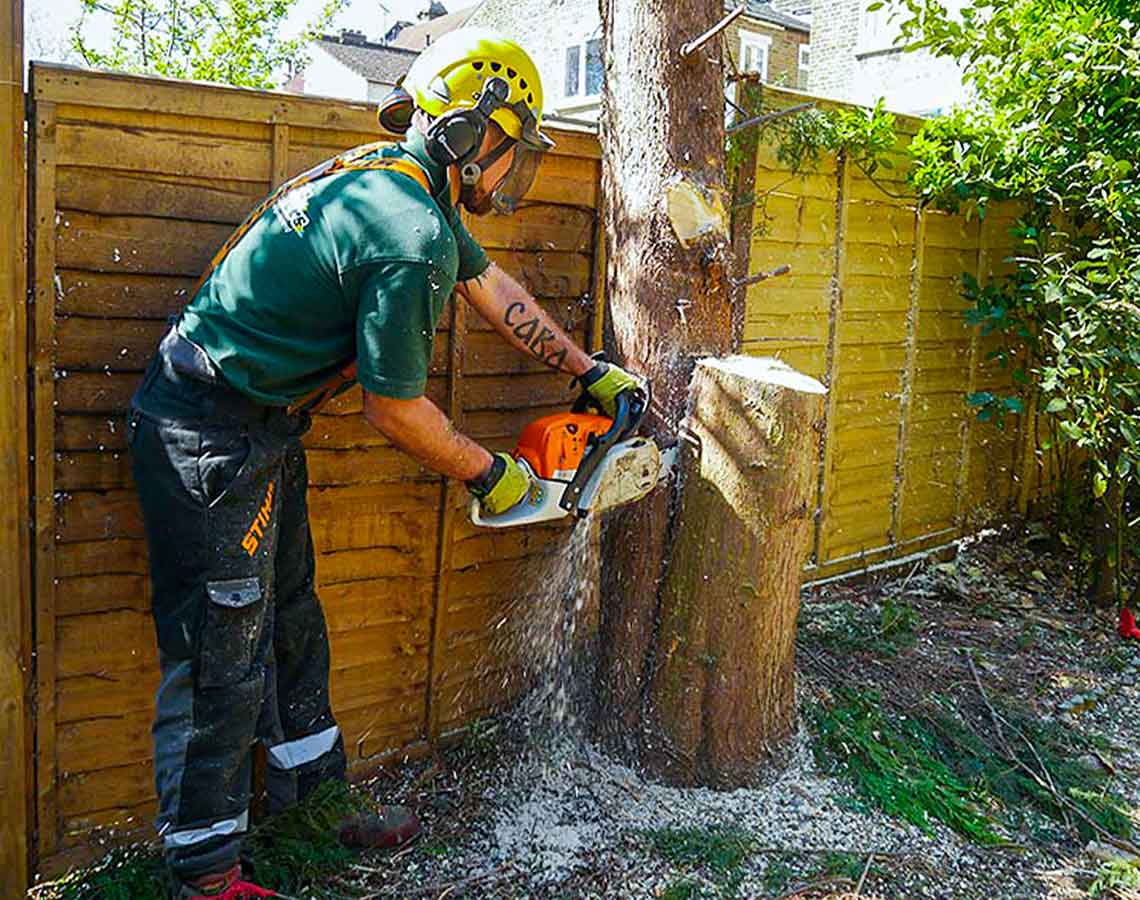 Request a quote for your service through our online booking form. It's a good idea to attach photos of the plants you want to be pruned. This way, we might be able to give you a faster quote over the phone.
If you receive a quote over the phone, the arborists will confirm it when they arrive onsite on the day of the service. If we can't quote you based on photos, you'll get the final cost after a survey. In some cases, the survey and the actual service can be performed on the same day, but due to availability, normally, they are scheduled separately.
A team of two experienced professionals will arrive on the scheduled day and time to complete the appointed job. Make sure to provide access to your property and to ensure a parking space. Keep in mind that the tools the team brings are quite heavy and the parking area shouldn't be far from your property.
The experts will park and prepare the equipment to complete the job. One of the arborists will climb up the tree, while the other one will help him by passing on machinery and chopping the greenery. Note that there isn't an option to send only one man, because the nature of the service doesn't allow it.
All green waste can be removed upon request and additional payment.
Note: Tree surgery is just as important as garden maintenance, so if you book this service as well, we may be able to perform it in one day.
Frequently asked questions
Q: Do I need permission to cut down a tree in my garden?
A: We'd suggest that you double check with your local council for the regulations in your area and acquire a permit if necessary. Some trees are protected by tree preservation orders.
Q: What is your area coverage?
A: Fantastic Gardeners covers the whole M25 area. You can book our services in North London, South London, East London and West London.
Q: What is the price of your tree surgery service?
A: The final cost depends on the size of the tree and the type of work you want to be done. Make sure to attach photos when requesting a service quote, because we might be able to give you a price estimate over the phone.
Q: It's an emergency. I have a fallen tree in my garden! Can you help me?
A: Of course we can. Just follow the instructions in our online booking form and don't forget to send us some pictures, so we have a better idea of the situation.
Q: Can I book this service for the weekend?
A: You can schedule your appointment for any day of the week, except Sunday, because of the machinery noise.
Have a specific gardening or plant-related question?
If so, click on "Ask now", submit your question, attach the appropriate images and press send. Your question will be forwarded to one of our Fantastic Gardeners who will get back to you with an answer ASAP. )
Some thoughts from our clients
Learn more about ivy control
Tree and ivy maintenance tips