Get rid of the grime outdoors with jet washing in London
Let us clean your driveway, patio or decking & enjoy the summer outdoors
Powerful equipment removing grime, stains & moss using only water
No minimum charge if combined with gardening
100% customer satisfaction and wow results
Sanitation of outdoor surfaces is available upon request
Get exclusive slots and prices with Fantastic Club
from £30/h instead of £60/h
Restore the original look of your patio with a simple clean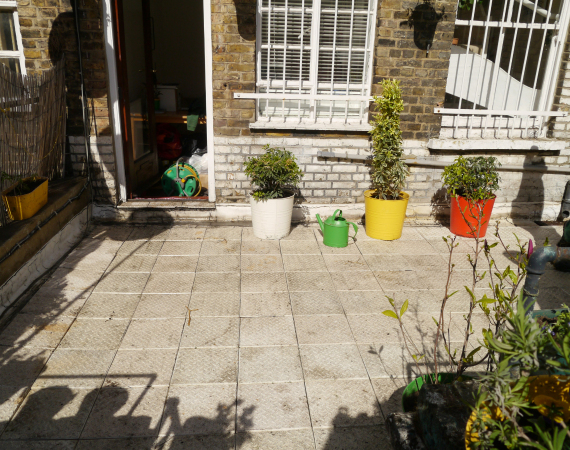 BEFORE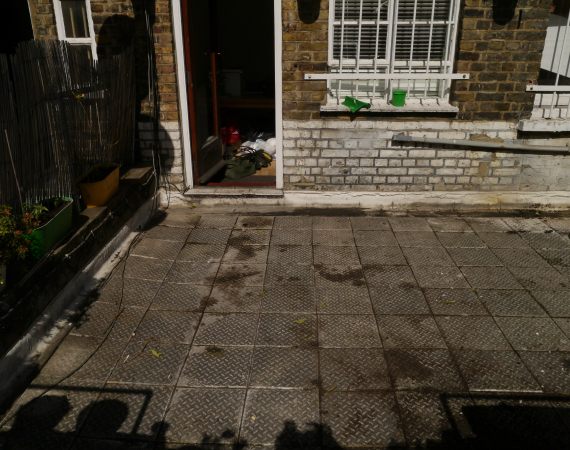 AFTER
Jet washing services are an effective cleaning method which removes grime, moss, mud and even some weeds from your outdoor paving and decking areas using only water. We recommend that you use this service when your patio starts changing its colour to green or gets muddy, to avoid outdoor slippage. Here's a short list with surfaces we can jet wash:
Paved areas
Patios made of sandstone, limestone, or blue stone
Brick and concrete surfaces, including walls no higher than 2 metres
Garden paths made of stone, terracotta, bricks, granite, or marble
Wooden and composite deckings
Fences - up to 2 metres in height
Garden furniture
Balconies - if there is drainage
Note: In order to perform the service, the professional gardeners/patio cleaners will need access to electricity and water.
Here is how our patio cleaning service usually goes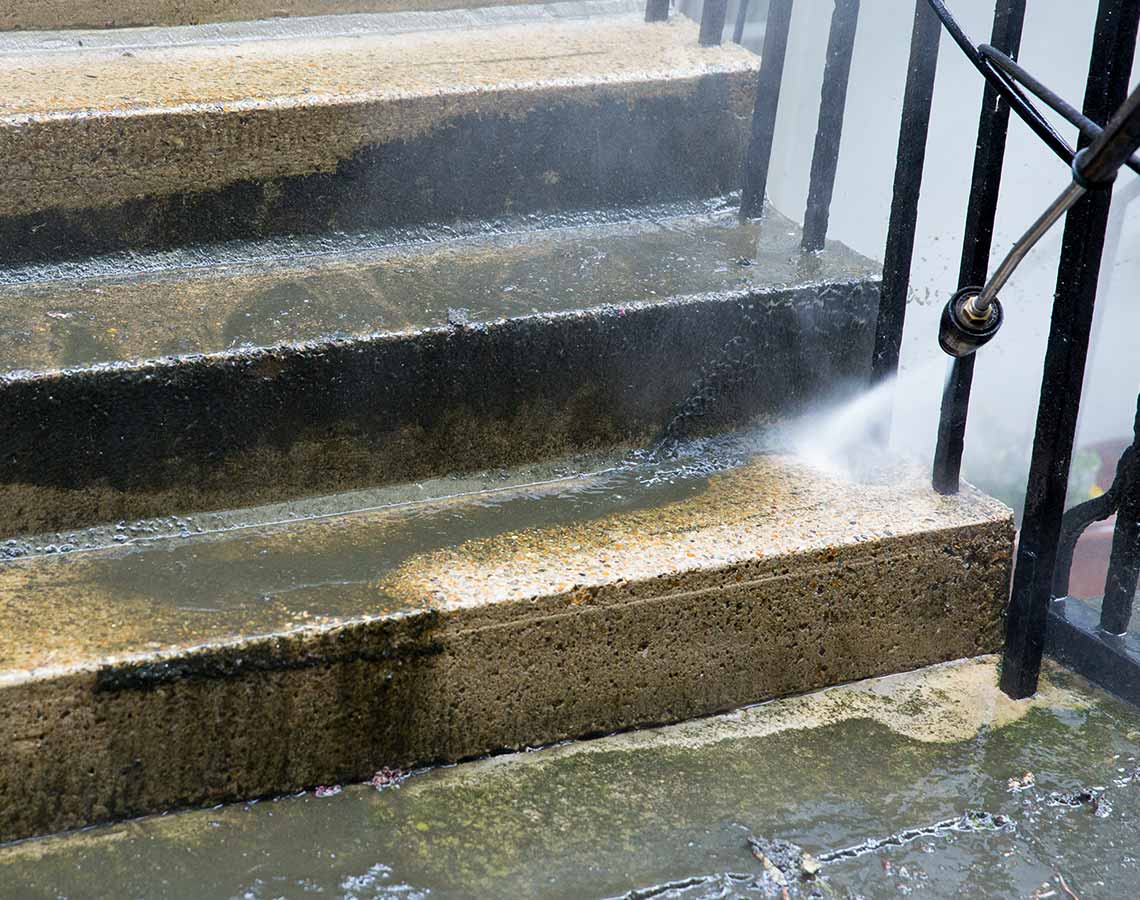 Meet the gardening team at your property and show them the areas that you want pressure washed.
Before they start cleaning, the experts will measure the area to confirm your quote.
They will then unload and prepare all the equipment. The pressure washing machine operates with electricity and water, so make sure there is proper access to those. If you don't have a water source in your garden, the team will attach a fitting to the equipment and connect it to an internal tap.
While one of the gardeners is assembling the jet washing equipment, the other one will clear out the area from any fallen leaves. Then, the patio cleaners will proceed with the washing process.
Enjoy the WOW results!
And if you want to lower the price for the service, you can always join our Fantastic Club. All of our members take advantage of preferential rates, premium booking time slots and many more awesome perks for a whole year.
Why choose our pressure washing service?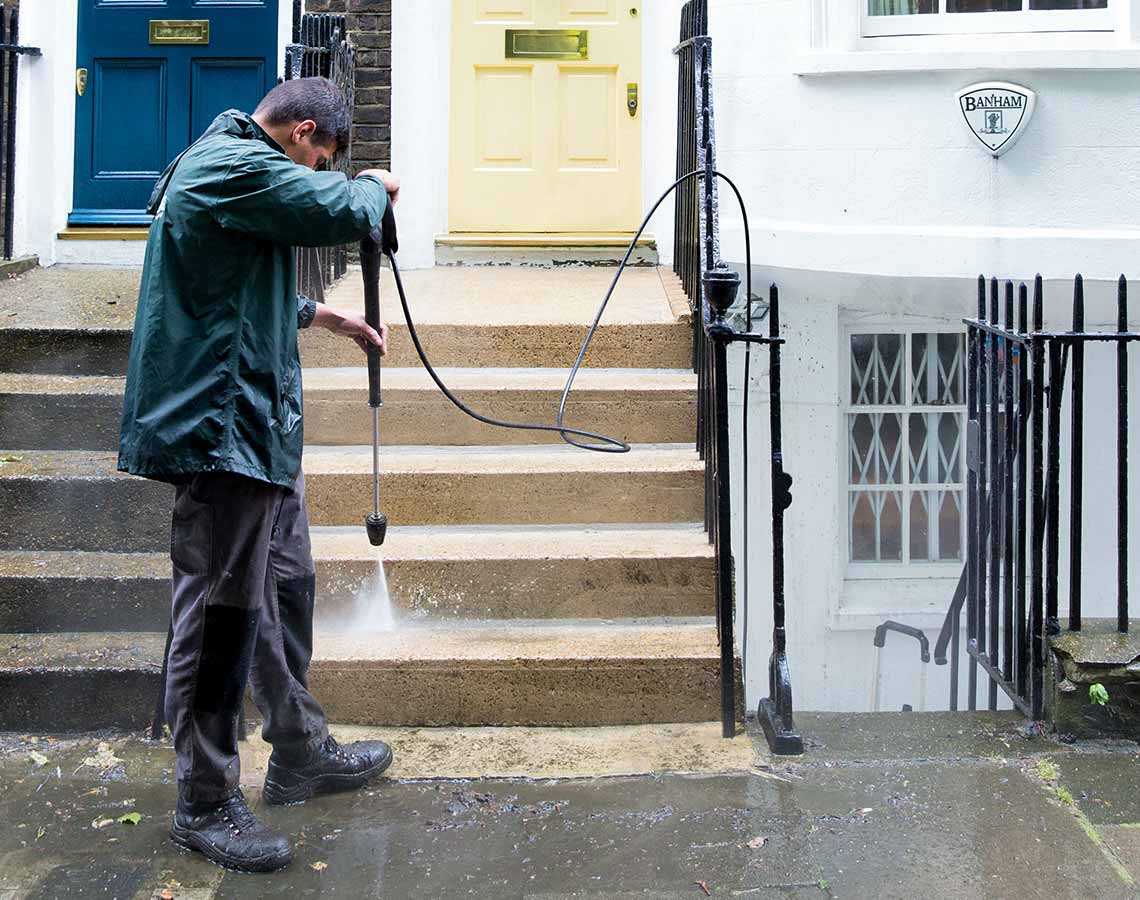 Fantastic Gardeners are a leading specialist in cleaning, restoring, and maintaining patios and driveways. With over ten years of experience in the sector, we have restored thousands of patios and driveways.
We can remove dirt, moss, algae, and weeds from almost any outdoor surface with our specialised power washing systems. To suit the needs of your specific area, we use industrial steam cleaning systems with both high and low-pressure options. The right amount of pressure is applied without damaging the structural integrity of the driveway or patio.
Our trained operatives can restore all exterior surfaces, whether they are paving, tarmac, resin, concrete, or stone.
Frequently asked questions
Q: Do you use any detergents for the cleaning?
A: No, we don't use any chemicals when performing this service. We only use pure water that is sprayed under high pressure as we aim to protect any greenery around the cleaned area.
What does the sanitation include?
Sanitation of outdoor surfaces is available upon request and an additional payment of £15. It is done with an EN1276 certified cleaner. It is available for all kinds of patios, deckings, path areas, garden furniture, door handles, etc. The only thing you should have to take advantage of the service is proper drainage. We cannot provide the service if drainage is in your garden or lawn.
Q: Does your service include driveway cleaning?
A: Yes, it does, but keep in mind that our power washing methods can't remove motor oil stains.
Q: What kind of water source do I need to provide you with?
A: The gardening specialists always carry various types of nozzles so any type of water tap will work.
Q: Can I book oiling or staining services for my decking or other wooden surfaces after the pressure washing is done?
A: Yes, you can. Just mention it in your booking and we'll arrange it.
Q: How much does it cost to pressure-wash a patio?
A: The Jet Washing can be done within the booked Gardening hours. If you need only pressure washing we have a minimum charge of £60 for areas smaller than 20 sq.m. For bigger areas the charge is 3£ per sq.m
Why does my patio turn green?
Algae and lichens are responsible for the green on your patio. They are present all year round but are more noticeable in the winter or after rain. In addition to patios, algae grow on driveways, conservatories, and garden furniture.
What can a pressure washer remove?
It effectively removes loose paint, mould, grime, dust, mud, and dirt from surfaces and objects.
Can you jet wash a balcony?
Yes but only if there is drainage.
Have a specific gardening or plant-related question?
If so, click on "Ask now", submit your question, attach the appropriate images and press send. Your question will be forwarded to one of our Fantastic Gardeners who will get back to you with an answer ASAP. )
Local Areas Fantastic Gardeners Cover
Some thoughts from our clients