Safe gutter cleaning in London from the ground
Protecting your property from water damage & infestations
1 month no-blockage guarantee
Safely unblocked & cleaned from ground level up to 2nd floor
Before & after pictures taken with specialised camera
Price for Fantastic Club members starts
from £29/h instead of £59/h
Why is professional gutter cleaning important?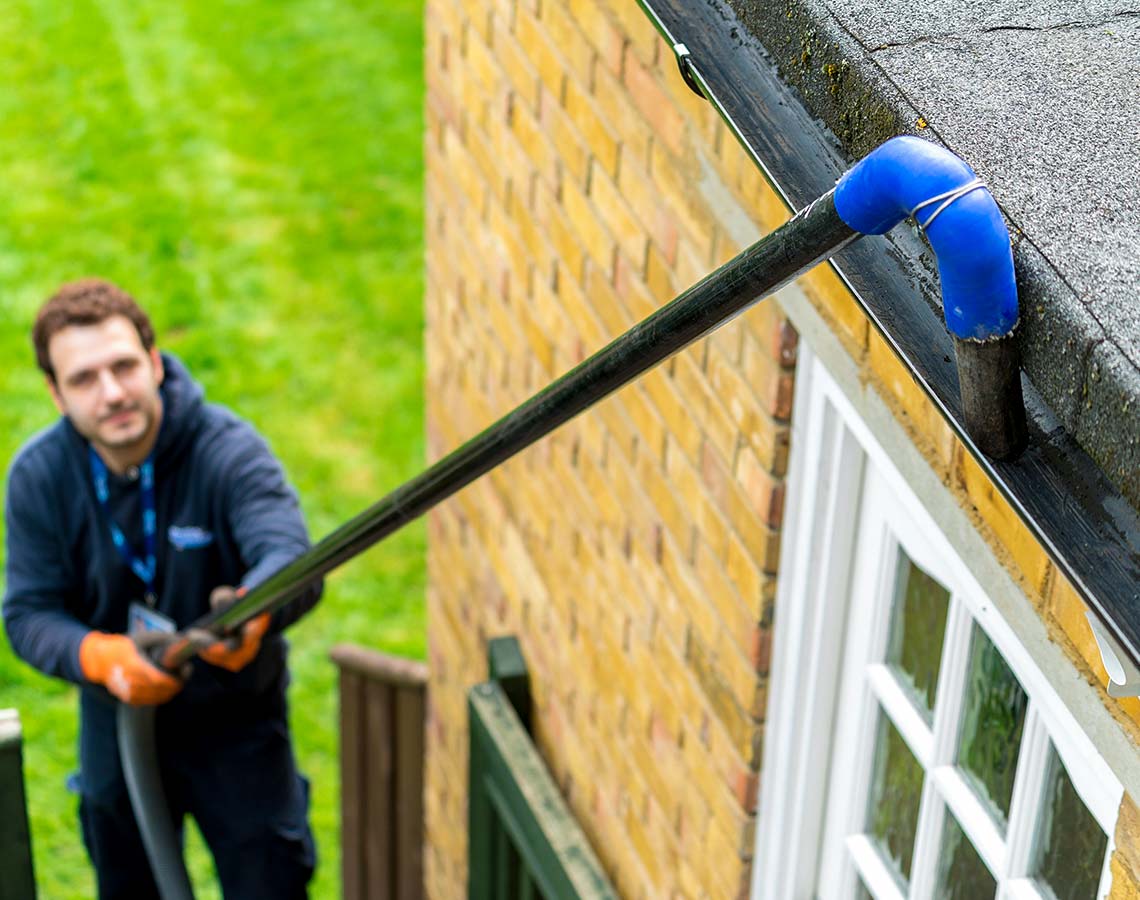 Many gutter defects are caused by the accumulation of leaves, branches, moss, dirt, bird guano and other natural debris. If rainwater is not freely flowing through your gutters, it will start to overflow, causing damage of various kind to your property. Some of the issues that can arise from blocked gutters include, but are not limited to the following:
Leaking roof
Dampness inside your property
Mould growth on exterior and interior walls
Wood rot and rust on metal structural fixtures
Contained flooding in basements and cellars
Insect infestation
So, don't wait for too long but book a professional inspection and gutter cleaning service with Fantastic Gardeners to avoid costly property damage in the future. You can combine this service with another one, such as patio cleaning or garden maintenance, for example. Depending on availability, we may be able to perform it on the same day.
What does the gutter cleaning process involve?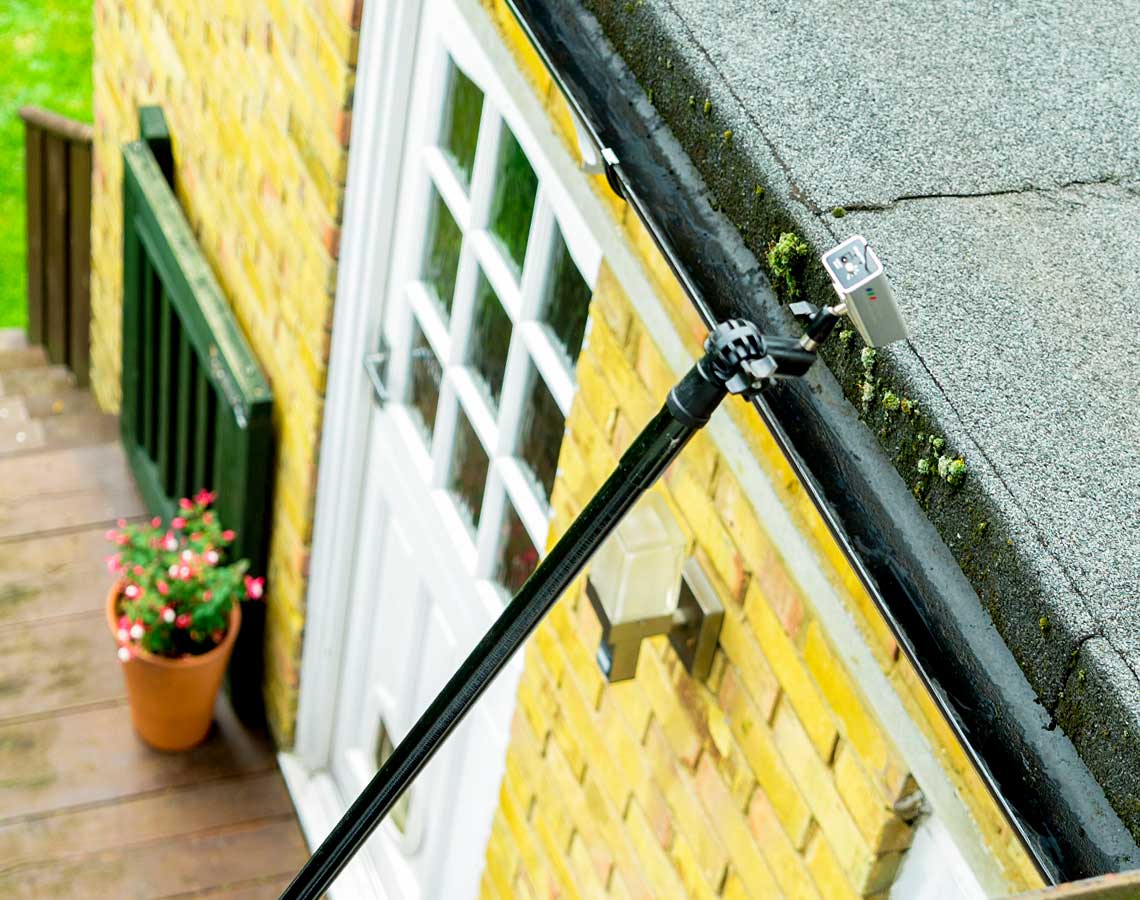 The experienced gutter cleaners use industry-grade telescopic gutter vacuum cleaning equipment, which is fitted with a camera and can reach up to 12 metres (2nd floor). The machine can remove vegetation, leaves, twigs, other debris, as well as insects' nests. The cleaner can also unblock the above-ground downpipes for you. Note that the service comes with a no-blockage guarantee of one month for all cleaned gutters. Mind that if you have downpipes, the guarantee will only be valid, if you book us to clean them, too.
Here's how it is all done:
The gutter cleaning technicians will arrive at your property and set up their machine.
They will inspect the gutters with the camera, which is designed to take before and after photos.
Once the pros determine the level of blockage in the guttering system, they'll proceed with the cleaning. The machine will suck all debris to ensure the unobstructed rainwater flow.
When done, the specialists will attach the camera to the pole again to check the outcome. You'll, of course, be presented with their before and after image recordings.
Note: The service cannot take place without access to electrical mains or if your rainwater drainage system is fitted with gutter guards. Also, please, ensure that the immediate area around your property is free of any obstructions.
Frequently asked questions
Q: How much does a gutter cleaning service cost?
A: The cost of gutter cleaning is based on the size and type of your property. You can get an instant quote by completing the online booking form.
Q: What is your coverage? Do you have a gutter cleaner near me?
A: We currently offer gutter cleaning services in London, Guilford, Oxford, Reading, Hemel Hempstead, Manchester, Liverpool and more. Please, check our availability in your area by entering your postcode in our online booking form.
Q: Do you clean all types of gutters?
A: Yes, the technicians clean all types of gutters, as long as they are not fitted with gutter guards. Note that we cannot service downpipes, which are below ground level.
Q: Do I need to provide anything for the service to take place?
A: The gutter cleaners need access to electricity, in order to provide the service. Also, ensure that they can move and work freely around your property, which means that there are no obstacles and clutter on the ground.
Q: Can I book a gutter cleaning service on a weekend?
A: Yes, Fantastic Gardeners offers services 7 days a week, even on Bank Holiday Mondays and other public holidays.
Q: What are the most common signs that indicate I need gutter cleaning?
A: Overflowing gutters are one of the most common signs. Also, in case there are any plants sprouting from them, make sure to proceed to getting rid of this unwanted vegetation.
Q: What kind of damage can clogged gutters cause?
A: Blocked gutters overflow when it's raining. Also, if you notice damp areas on the walls and ceiling in your attic, this is a telltale sign for possible obstructions in your rainwater drainage system. Furthermore, from the ground, you may spot vegetation growing or protruding from your gutters, which simply needs to be removed.
Have a specific gardening or plant-related question?
If so, click on "Ask now", submit your question, attach the appropriate images and press send. Your question will be forwarded to one of our Fantastic Gardeners who will get back to you with an answer ASAP. )
Some thoughts from our clients
Learn more about gutter cleaning
Read our advice on gutter cleaning