Gardening services in Luton
From the ground up, we can make your garden fantastic!
The service is available 7 days a week, regardless of the weather
We offer contactless services for front gardens and lawns
All necessary tools and equipment are brought by the gardeners
Free disposal of 120 litres of generated waste
Gardening services are available for any property in Luton
Looking for a brand that offers quality gardening services in Luton? Look no further than Fantastic Gardeners! We started out as a small local company in the capital, but our services are now available in Luton. We offer a wide range of services to suit your needs, so you can have a neat garden without spending all your free time on it. Simply contact us and tell us what kind of care you need for the green spaces around your property.
Why should you hire Fantastic Gardeners in Luton?
Whether you need a one-off gardening service or regular garden maintenance, we can help. Find out what we can do for you by clicking the tabs below:
Garden maintenance
Weeding & pruning
Lawn care
Jet washing
Gutter cleaning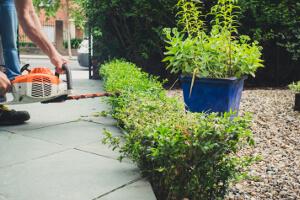 We offer regular garden maintenance services as well as one-off bookings to suit your needs. We also provide garden clearance services for those pesky overgrowth problems. Here are some things that make our service stand out from the rest:
Service is available on weekends and official holidays;
In order to maximise efficiency, garden maintenance and clearance are always performed by a gardening team;
Hourly gardening services - only pay for the actual time spent on site by the gardeners;
It does not matter if the weather is bad; we can work regardless;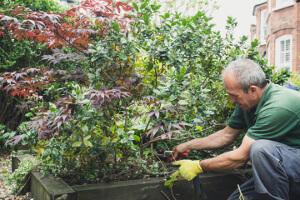 No matter how hard you try, there will always be weeds in your garden. They seem to grow out of nowhere and can ruin the appearance of your property. But don't worry, the Luton gardeners are here to help. We will remove every single weed so your flowers and hedges can thrive. As an additional service, you can have problematic areas treated with herbicide so that the annoying weeds won't return.
Moreover, we have expertise in pruning hedges and bushes. With our tools and moves, we can maintain the health and beauty of your shrubbery. The generated waste can also be disposed of. There is no charge for the first 120 litres. In the event that you wish us to dispose of more than 120 litres of garden waste, you will be charged £4 per 90 litre bag, £5 per 120 litre bag, £6 per 180 litre bag, and £50 per jumbo bag.
Gardening specialists can also prune trees up to 5 metres tall. In addition to the ladder, they have chainsaws and cutting equipment with them.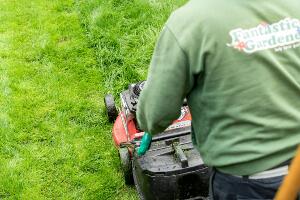 If trees are the lungs of the earth, then lawns are its air filters. They block dust particles and purify the air we breathe. By regularly mowing them, we ensure their healthy condition and growth. If you're not happy with the state of your lawn, our Luton gardeners can help. We offer a professional lawn mowing service that will have your grass looking green and healthy in no time. Here are a few things you need to know about our service:
The teams use petrol-powered mowers and trimmers - no electricity is required;
A complete set of tools and equipment is included in the price;
A piece of professional advice on lawn care can be provided by the team;
When carrying the equipment through your house, the team uses protection sheets and overshoes;
To ensure the best results, please make sure that all pet excrements are removed from the grass before our lawn mowing service.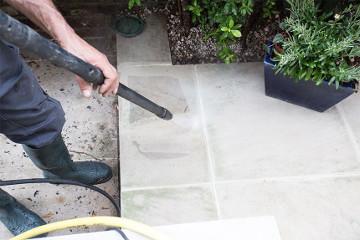 If you're looking for a fast and effective way to clean your outdoor surfaces, pressure washing is the ideal solution. Whether it's your patio, driveway, decking or walkway, our powerful jet washers will quickly remove any dirt, grime, moss or stains.
It is also suitable for balconies (if they have drainage) and walls up to 2 metres high. Here are some of the things that make our service unique:
Totally eco-friendly - no detergents used and very little water consumed;
Pressure-washing machines can be connected to any water source;
The results provided by experienced patio cleaners are extremely satisfying;
The price is determined by the size of the area to be cleaned;
When jet washing is combined with gardening, there is no minimum charge;
The gardeners will need to confirm the quote estimate onsite, once they measure the area precisely. It is also necessary for them to have access to electricity and running water.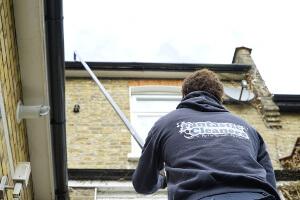 Gutter cleaning is something you do after a problem arises. Because you don't know you should clean them, not because you're sloppy. The following problems can occur when gutters are not properly maintained, partially or fully blocked:
Roof leakages
Pest infestations
Unpleasant odour
Rotten wood
Foundation cracks
Mould growth
You can avoid all this by having us clean your gutters twice a year at the very least. Here are some reasons why you should choose us:
Modern high-end equipment - telescopic poles for wet vacuum cleaners;
The gutters and downpipes are cleaned from the ground up to a height of 12 metres;
'Before' and 'after' pictures showing the results of guttering;
The service is completely safe, no ladders or cherry pickers are used;
We cannot clean gutters with guards and downpipes that are below ground level.
Check out Our Gardening Prices in Luon
Gardening
Jet Washing
Gutter Cleaning
| Team | 1 hour (Min charge) | Subsequent hours |
| --- | --- | --- |
| 2 gardeners | £68 | £50 |
Teams of gardeners are always sent for maximum efficiency;
Completely contactless services are available for front gardens;
All machinery is petrol-powered, so we don't need electricity;
No hidden charges! You pay for the actual time spent on-site.
Polite, insured, equipped and experienced professionals.
We dispose of 120l of green waste for FREE;
| Price per m2 | Minimum charge |
| --- | --- |
| £3 | £60 |
Completely eco-friendly service - only water used, no detergents;
Technicians bring different nozzles to connect to water source;
We stay until the job is done, it's not an hourly based service;
Minimum water usage;
Guaranteed WOW effect;
No minimum charge applied when combined with gardening;

As a member of the Fantastic club, you can get £30 OFF for 10 different services within 1 year.
Property type
Ground floor
First floor
Second floor
Prices

Fantastic Club


Standard

Fantastic Club


Standard

Fantastic Club


Standard
Terraced
from £29
from £59
from £49
from £79
from £69
from £99
End of terraced
from £49
from £76
from £69
from £96
from £89
from £119
Semi-detached
from £49
from £79
from £69
from £99
from £99
from £129
Detached

from £69


from £99

from £89


from £119

from £109


from £139
THE FANTASTIC STANDARDS FOLLOWED BY TRUSTED LOCAL GARDENERS & OUR SERVICE COVERAGE
Fantastic Gardeners works with experienced, hard-working and dedicated franchisees who follow our Fantastic Standards very strictly. They will provide you with the ultimate service experience. All the local gardeners are insured and well-trained to offer high-quality gardening services in the following areas:
Frequently asked questions
What is the process for booking a service?
If you already have an account with us, then you can simply text us to place your order. If you prefer, you can make a reservation online. You can see the available booking slots for weeks ahead along with the estimated cost for your service once you enter your requirements, service details, and postcode. You may also be interested in learning about our app. Take care of all your domestic chores with just a few screen taps today with GoFantastic.
How is all the generated green waste disposed of?
As part of the service, the gardeners will remove 120 liters of green waste for free. There will be an additional charge of £4 per bag for additional 90l bags of green waste that are ready for disposal. The rest of the refuse can be packed in bags and removed for an additional fee based on volume and type.
It is only through the house that I can access my garden. In this case, how should we proceed?
If there is no side-gate possibility, don't worry - our gardeners have protective safety gear. Additionally, the gardeners will ensure that no mess is made indoors by wearing overshoes and spreading a protective sheet.
Is it possible for the gardeners to come in bad weather?
No matter what the weather is, the dedicated specialist will not be deterred by it. Please keep in mind that the weather can surprise us and the gardeners may not be able to work as efficiently as they would like. It is possible to reschedule your service if you wish.