Buy a Real Christmas Tree Online and Have It Delivered
Long-lasting, fresh-cut and pot grown Christmas trees at an affordable price!
NEW Pot Grown Norway Spruce trees from 2-4ft
Fresh cut non-drop trees from 5-6ft to 8ft in height
FREE delivery within M25
Minimum £19 off post-holiday collection when it's booked with delivery
Price for Fantastic Club members starts
from £59/h instead of £89/h
Why order your Christmas tree online from us?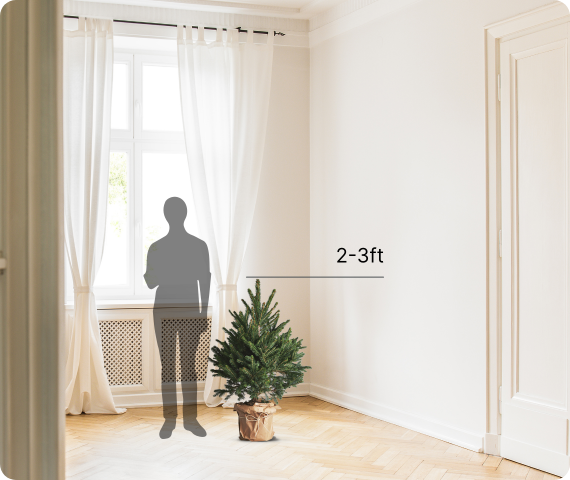 from £49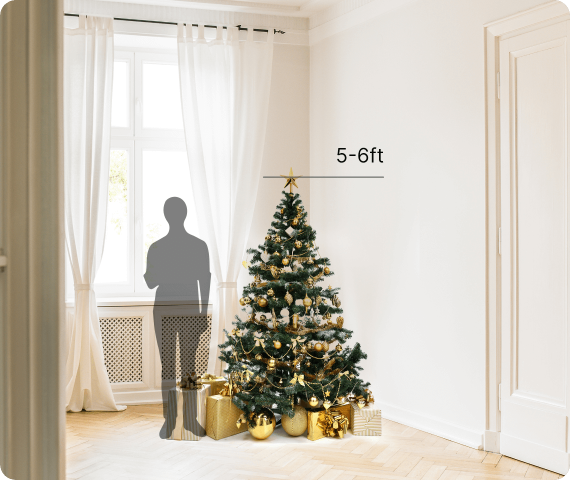 from £59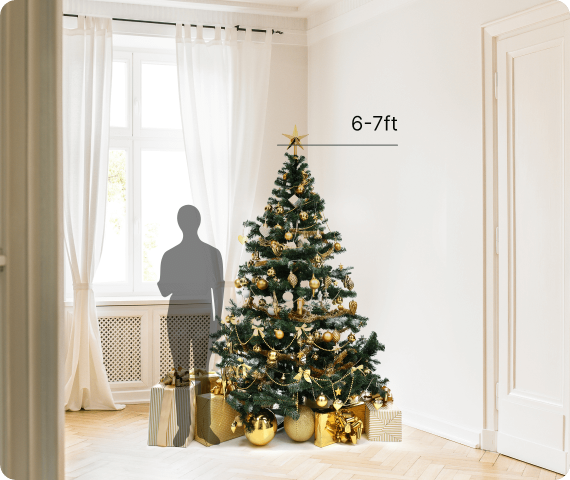 from £69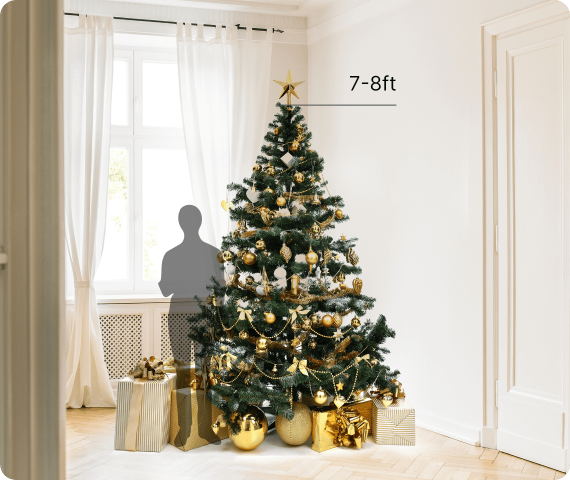 from £89
Premium grade fresh-cut Nordmann Firs with thick non-drop needles. These evergreens have a wonderful dark green colour and smell great!
We also offer pot grown Christmas trees which you can keep and grow way after the holidays have ended. The species we have chosen for our pot grown selection is the classic Norway Spruce variet, also known as the quintessential British Christmas tree since Victoria times.
All of the trees we deliver have been organically grown in England, Scotland or Denmark by a proud member of the Bumblebee Conservation trust and Horticultural Trade association. They have all passed rigorous pest and disease control tests.
Our Nordmann Firs are cut as close to the ground as possible, so none of their bottom branches are compromised and need to be removed when installing the tree in its base.
Installation and a special water-reservoir stand available upon request.
Delivery of real Christmas trees within the M25 area is FREE of charge.
Fresh cut Nordmann Fir Christmas tree delivery in London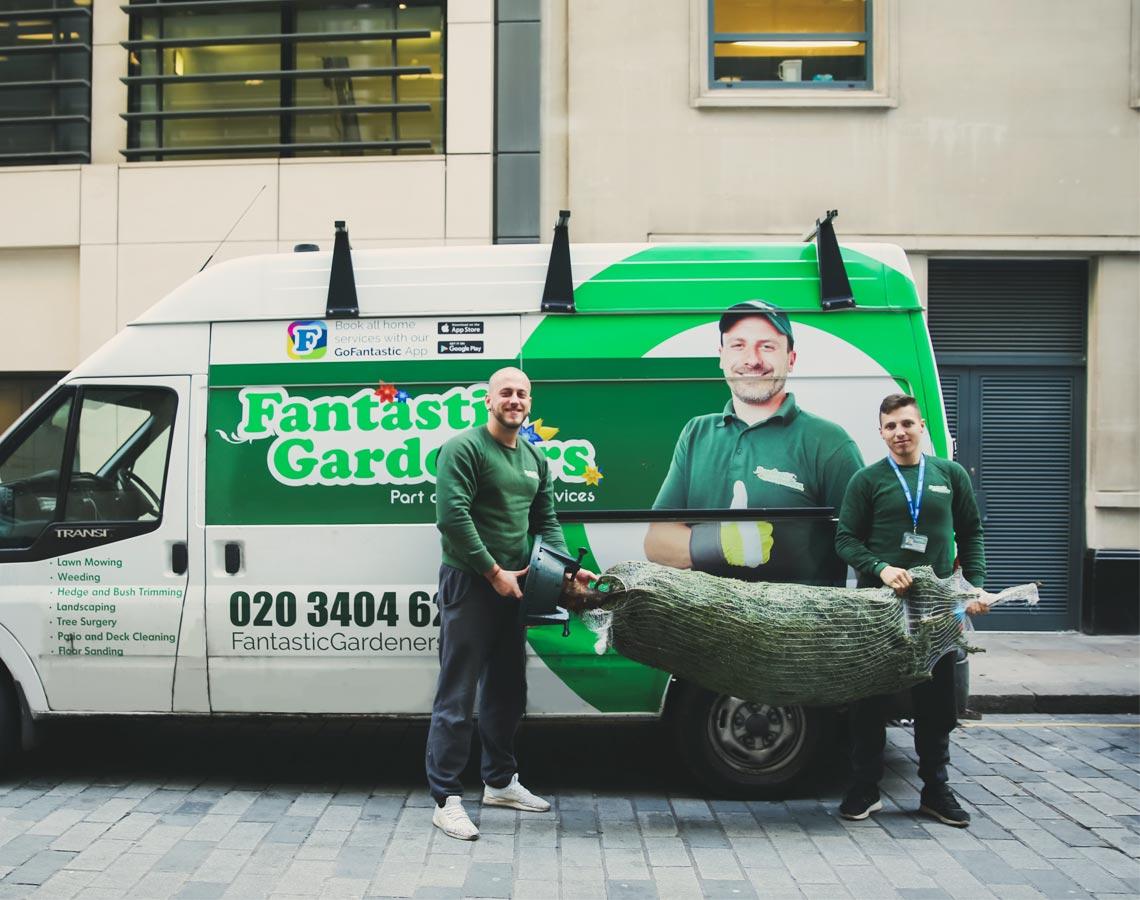 We deliver fresh premium grade Nordmann Firs that're grown in Scotland and Denmark directly to your property. And here's how this service usually goes:
We deliver your tree

– When the scheduled day for your live Christmas tree delivery comes, a couple of professional gardeners will bring a fine Nordmann Fir to your address at a convenient time.

Installation

– First, the gardener will remove a small piece from the Christmas tree's trunk. This is done to improve the tree's water absorption capabilities and to prolong its vitality. Then, he will mount it on the stand and situate it wherever you wish, as long as the spot you choose is away from any heat sources. After making sure that the tree is standing straight, the gardener will fill the stand with water and clean up any debris that might have been left behind.

Christmas tree collection and recycling

– When the holiday season is over you can have your Christmas tree collected from your property and recycled for an additional charge.
Celebrate the holidays with a sustainable pot grown Norway Spruce

Kick the holiday season off with the original Victorian Christmas tree - the Norway Spruce (also known as Picea abies) and in a pot, nonetheless. Yes, starting this year, we will be offering the option to have a 2-3 ft live pot grown Christmas tree (all of these come in a free pot) delivered to your home. This tree will require a bit more care than a regular cut Christmas tree, however, it comes with many benefits:
Sustainability - There are fewer CO2 emissions used in the growing process of pot grown Christmas trees (no use of petrol-powered chainsaws; transportation directly from the planting field to your home;). On top of that living Christmas trees are well-known for filtering CO2 from the air and converting it to oxygen.
Reusability - A pot grown Christmas tree can be transplanted in a bigger pot at the end of the season and then used again the following Christmas. These Norway Spruces are intended to stay with you for years to come.
Creates an unbeatable Christmas atmosphere - A pot grown Norway Spruce will bring unprecedented cosiness to your home thanks to its unbeatable Christmas aesthetic and amazing fragrance.
Pot grown trees are easy to replant and their roots are more likely to adapt to a new location, whether that be in a larger pot or outside, directly into the soil. And yes, we can do the transplanting for you, for an additional fee!
All you have to do is request it when booking your pot grown Christmas tree delivery service through our online booking form. This way after the holidays are over you will be able to arrange for a couple of gardeners to transplant your tree into a larger pot or directly into your garden's soil.
Stress-free Christmas tree collection near you

When the holiday season is over you can have your Christmas tree collected from your property and recycled. This service is super easy to set up and can be booked regardless of whether you bought your Christmas tree from us or not.
Simply go on to our online booking form, fill in the address from which you want the tree picked up. Then choose a date and time for the collection. We begin carrying out Christmas tree collection from the 2nd till the 31st of January. We cover all areas across and nearby East, West, North, South, and Central London.
Benefits of choosing us for Christmas tree collection:
We offer Christmas tree collection until the 31st of January unlike most of our competitors that carry out their services until mid-January.
When you book Christmas tree collection along with your delivery service you get minimum £19 off.
All fresh cut trees we collect are professionally recycled in a green waste centre.
If you buy your pot grown Christmas tree along with collection, we will come by at the end of the holidays (during a date and time that suits you), pick up the tree and have it transplanted in a nearby forest where it will continue to thrive for years to come.
Simply Choose a Real Christmas Tree from the Prices List!
We perform Christmas tree deliveries between the 15th of November and the 23rd of December. Feel free to get in touch with us if you have any additional questions regarding the gardening and landscaping services that we offer.

As a member of the Fantastic club, you can get £30 OFF for 10 different services within 1 year. Learn more
We at Fantastic Gardeners offer prices that suit any budget, destroy the competition and meet service quality. If you're wondering how much it costs to have a real Christmas tree delivered to your doorstep, look below:
Note: Delivery of the Christmas tree to your door is always included in the price.*All pot grown Christmas trees are delivered with the pot (no extra charge).**We perform Christmas tree collection between the 2nd and the 31st of January.T&C and minimum charges apply. Please bear in mind that congestion charges are not included in the prices above.
Pot Grown
Norway Spruce Christmas Tree*
Nordmann Fir Real Cut Christmas Tree

Christmas tree sizes

3-4 ft

5-6 ft

6-7 ft

7-8 ft

Prices

Fantastic Club


Standard

Fantastic Club


Standard

Fantastic Club


Standard

Fantastic Club


Standard
Christmas tree

£49


£79

£59


£89

£69


£99

SOLD OUT

Christmas tree
+ Stand and installation

-

£79


£109

£89


£119

SOLD OUT

Christmas tree
+ Collection**

£89


£119

£99


£129

£109


£139

SOLD OUT

Christmas tree
+ Stand and installation + Collection**

-

£119


£149

£129


£159

SOLD OUT

Christmas tree collection only**

£29


£59

£29


£59

£29


£59

£29


£59
Frequently asked questions
How long does it take you to deliver the Christmas tree on the scheduled day?
We normally strive to deliver every Christmas tree at the requested by the customer time. However, do bear in mind that we have a four-hour arrival window, meaning that the people who deliver your tree can come at any time within that time frame.
Why should I pick a fresh-cut Nordmann Fir Christmas tree?
This type of fir is known for its excellent needle retention, gorgeous dark green colour and durability. It's perfect for hanging heavy ornaments and its soft foliage makes it child- and pet-friendly.
How long will my fresh cut Nordmann Fir last?
Water it regularly. Keep the water level above your tree's base and you will be able to enjoy it for up to four to six weeks. This means you can erect your tree in November.
Is Nordmann Fir suitable for people with allergies?
This is the perfect choice for people suffering from allergies. Nordmann Fir has wax-coated needles which prevent the allergy-inducing particles from releasing into the air.
How to determine how wide my fresh cut Christmas tree will be?
There is a general rule that the widest point of the Christmas tree girth is usually a little less than half of the tree's height. That means that a 6ft tall tree will be around 2.9ft wide at it's widest point.
How to determine what size my fresh-cut Nordmann Fir should be?
To pick the right size of Christmas tree, you need to measure the height to your ceiling and the width of the room. Remember to maintain a distance of about a meter between the ceiling and your tree. You will need this space for the topper and your tree stand.
What does non-drop Christmas tree mean?
Nordmann Firs are classified as non-drop Christmas trees due to their ability to retain their needles for a lot longer than other varieties. That allows people to put them up earlier and enjoy their green foliage and pleasant scent for a longer period. This is the Christmas tree variety that lasts the longest.
How to determine what size the Christmas tree stand should be?
For firs which are between 5-7ft you should get a medium cinco stand, which is 5.5" x 14.5" and can contain 4 litres of water. For 8ft Christmas trees you should get a large cinco stand which is 6" x 19" and can hold as much as 7 litres of water.
Do you offer next day delivery of Christmas trees?
Yes, we do. However, being able to book a Christmas tree delivery service for the following day all depends on how full our schedule is. If there's an available slot, you can book it in.
How long can I keep my pot grown Christmas tree indoors?
We recommend keeping your pot grown Norway Spruce indoors for no longer than 12 days at a time. Every 10-12 days place the tree outside for a full day so that it can recharge. Once the 24 hours are up, you can bring it back inside. At the end of the Christmas holidays, it's recommended you move your pot grown Norway Spruce outdoors and keep it there until the following December.
How do I look after a pot grown Norway Spruce indoors?
Start off by picking an appropriate spot for your tree - it should be kept somewhere cool with access to sunlight. Water it on a regular basis but don't overwater as that can cause the tree's roots to rot. However, also avoid not watering your tree enough as that can lead to its needles browning and in some cases even falling off. To avoid any of this from happening always check the soil using your finger to tell whether or not it needs watering.
What is the difference between a pot grown and a potted Christmas tree?
A pot grown tree is one that has been planted as a seedling in a pot filled with compost and growing medium so that its root ball becomes completely encased in the container. Thanks to this, this type of Christmas tree are super easy to transplant whether it be outdoors or in a bigger pot, unlike potted ones. A potted tree on the other hand is one that has been grown outdoors, directly into the soil and once it has reached a reasonable size, has been dug up and transplanted into a pot. These trees rarely survive being transplanted into a bigger pot or outdoors because their roots are loose (from being dug up before).
When and how should I repot my Norway Spruce?
Our pot grown Norway Spruces come in pots that have ample space for another 12 months after delivery. Once a full year has passed, we recommend you repot the tree into a pot at least 10 cm larger in diameter than the previous one. This process is best done in early spring. For soil, use 90% multipurpose potting compost and around 10% garden bark mulch (this will help improve drainage). Once the warm weather of late spring comes knocking on your door, start feeding your Norway Spruce liquid fertilizer weekly throughout the entire growing season. Keep watering it regularly and it will keep on growing and thriving.
Some thoughts from our clients