Buy a real Christmas tree online and get it delivered
Long-lasting, fresh, non-drop Nordmann Fir
Fresh trees from 5 feet to 8 feet tall
FREE delivery within M25
Installation & decoration available upon request
£20 off post-holiday collection when booked with delivery
Due to seasonality, we are very sorry to tell you that all Christmas trees are currently sold out. Please excuse us for any inconveniences we might have caused. Feel free to call us on 020 3404 2272 with any additional questions regarding the gardening and landscaping services that we offer.
Why Order Your Christmas Tree Online from Us?
Premium grade Nordmann Fir with thicker non-drop needles.
Wonderfully dark green in colour and smell great! Organically grown and have passed rigorous pest and disease control tests.
All Christmas trees we provide, are grown in England, Scotland and Denmark by a proud member of the Bumblebee Conservation trust and Horticultural Trade association.
Installation and a special water-reservoir stand available upon request.
Delivery of real Christmas trees within the M25 area is FREE of charge.
Decorated! Book a fantastic professional to decorate your tree and home.
Get £20 discount by booking Christmas tree disposal together with delivery.
What To Expect From Your Fresh Christmas Tree Delivery Service?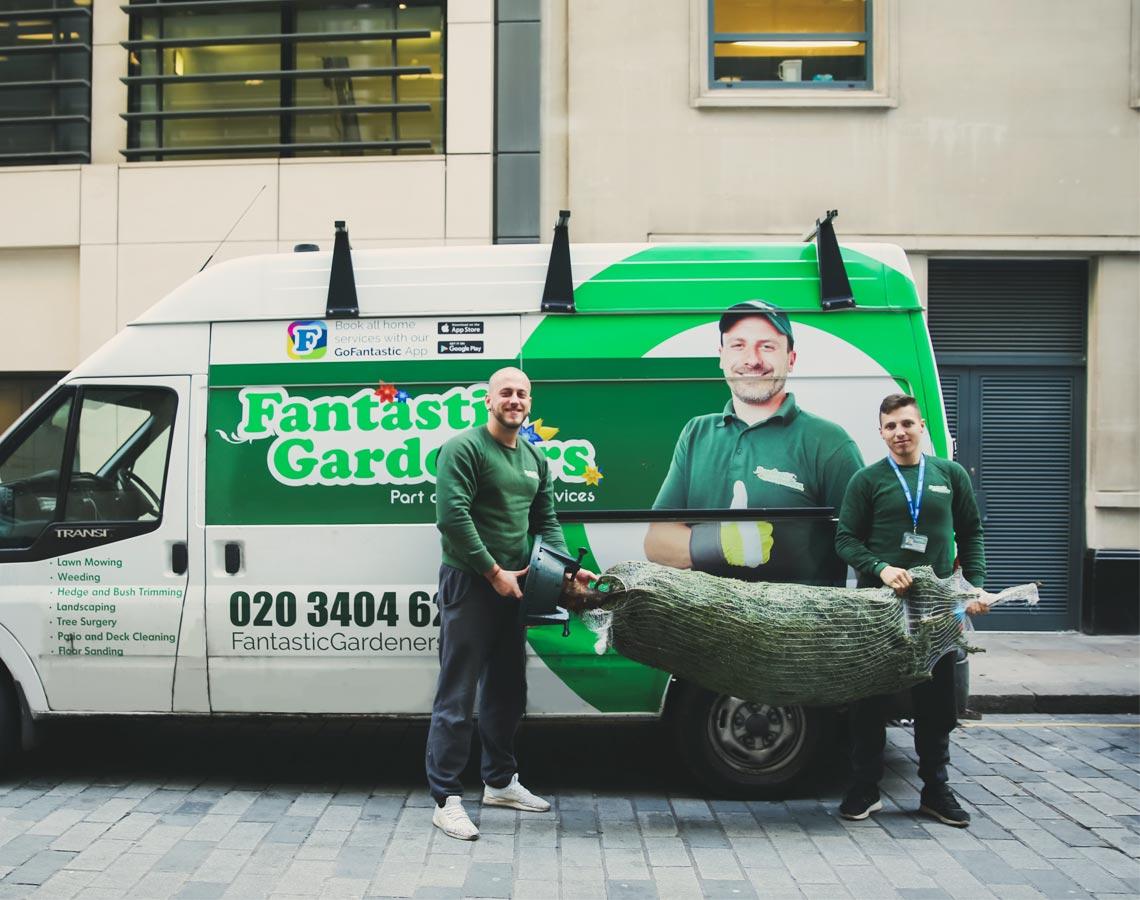 We can deliver a fresh premium grade Nordmann Fir to your property, that's grown in Scotland and Denmark. And here's how this service usually goes:
Contact Us

– All you need to do is tell us the dimensions of the tree and when you want it delivered to your doorstep between the 15th November and the 23rd December.

We Deliver Your tree

– When the day for your live Christmas tree delivery comes, a gardener will bring a fine Nordmann Fir to your place at a convenient time.

Installation

– First, your gardener will remove a small piece from the trunk. That will improve the absorption of water and will prolong the vitality of the tree. Then, he will mount it in the stand and situate it wherever you wish, but away from heat sources. After making sure that the tree is standing straight, the gardener will fill the stand with water and clean up any debris that might be left.

Decoration

– If you are too busy to prepare the Christmas tree for the festivities yourself, you can have a helpful technician do that for you. The decoration we put up can be either your own or ours.

Christmas Tree Collection and Disposal

– When the holiday season is over you can have your Christmas tree collected from your property. This service is available between the 2nd and the 31st of January.
Make Your Christmas Tree Shine With Our Beautiful Gold Decoration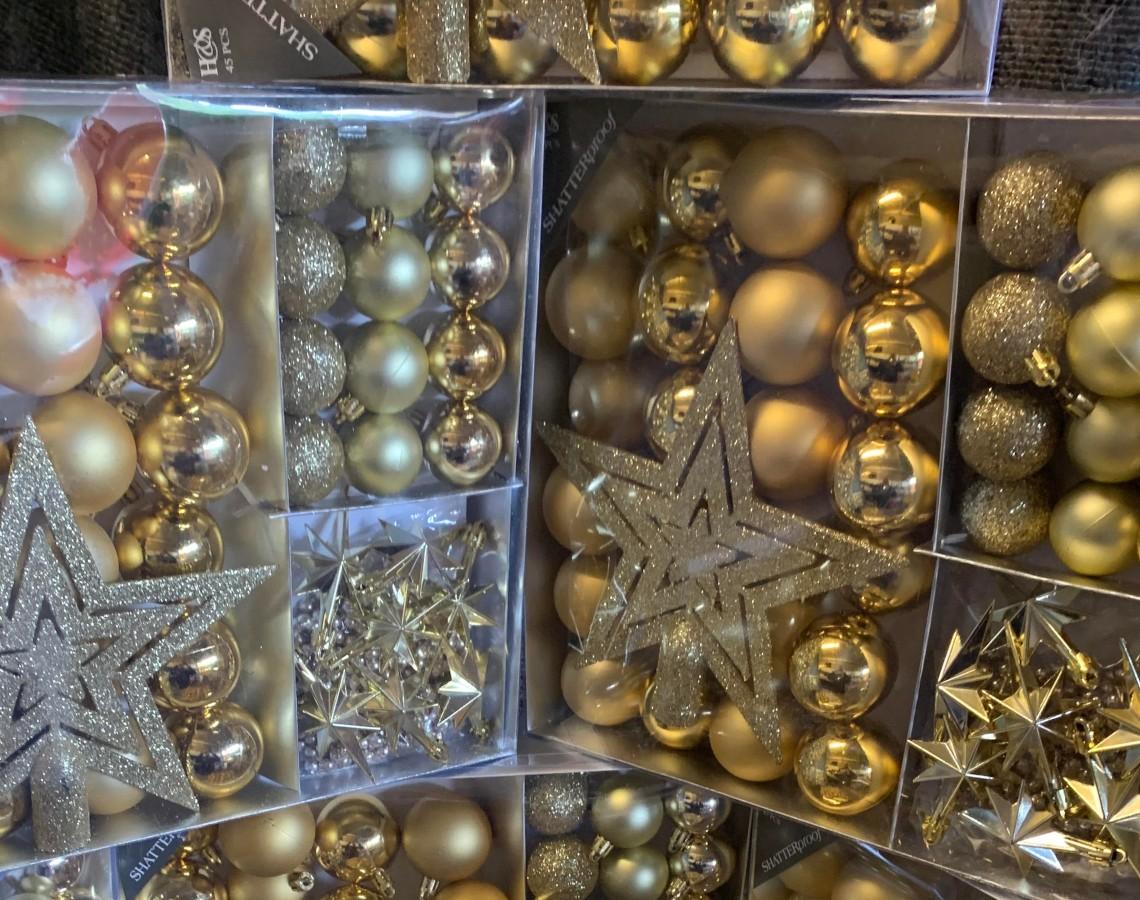 Get everything you'll need to make your Christmas tree look its best with our gold, Christmas decoration pack. It includes a total of 44 items:
24 baubles approx 5cm in diameter

12 baubles approx 4cm in diameter

7 Star charms

1 Tree Topper

A Pack Of Deco Beads
All of the baubles we offer are shatterproof and made out of metal and matted plastic. They are child and pet-friendly as falling off the tree won't cause them to shatter into a hundred pointy-glass pieces.
Aside from delivering this decoration we also put it up for you, saving you your valuable time.
Simply Choose a Real Christmas Tree from the Prices List!
Fantastic Gardeners offers you a price that suits you, destroys competition and meets service quality. If you're now wondering how much does a real Christmas tree cost, look below:
Christmas tree prices
5-6 ft tree
6-7 ft tree
7-8 ft tree
Tree Price SOLD OUT

£69

£79

£89

Tree Disposal SOLD OUT

£55

£55

£55

Decoration/Removal of Decoration* SOLD OUT

£32

£32

£32

Decoration with our Christmas decor SOLD OUT

£55

£55

£55

Note: Delivery of the Christmas tree to your door is always included in the price.

*The Decoration/Removal of Decoration service we offer is done with your own materials and is as of now available within all of M25.
We also offer Christmas tree bundles where you get more and pay less. So, feel free to combine delivery and disposal as shown below to grab a special price!
| Christmas tree package deals | 5-6 ft tree | 6-7 ft tree | 7-8 ft tree |
| --- | --- | --- | --- |
| Tree + Stand and installation SOLD OUT | £85 | £95 | £109 |
| Tree + Disposal SOLD OUT | £104 | £114 | £124 |
| Tree + Stand and installation + Disposal SOLD OUT | £120 | £130 | £144 |
| Tree + Stand and installation + Decoration with our Christmas decor SOLD OUT | £137 | £147 | £161 |
| Tree + Stand and installation + Disposal + Decoration with our Christmas decor SOLD OUT | £172 | £182 | £196 |
Frequently asked questions
Why should I pick a Nordmann Fir Christmas tree?
This type of fir is known for its excellent needle retention, gorgeous dark green colour and durability. It's perfect for hanging heavy ornaments and its soft foliage makes it child- and pet-friendly.
How long will my Nordmann Fir last?
Water it regularly. Keep the water level above your tree's base and you will be able to enjoy it for up to four to six weeks. This means you can erect your tree in November.
Is Nordmann Fir suitable for people with allergies?
This is the perfect choice for people suffering from allergies. Nordmann Fir has wax-coated needles which prevent the allergy-inducing particles from releasing into the air.
How to determine how wide my Christmas tree will be?
There is a general rule that the widest point of the Christmas tree girth is usually a little less than half of the tree's height. That means that a 6ft tall tree will be around 2.9ft wide at it's widest point.
How to determine what size my Nordmann Fir should be?
To pick the right size of Christmas tree, you need to measure the height to your ceiling and the width of the room. Remember to maintain a distance of about a meter between the ceiling and your tree. You will need this space for the topper and your tree stand.
What does non-drop Christmas tree mean?
Nordmann Firs are classified as non-drop Christmas trees due to their ability to retain their needles for a lot longer than other varieties. That allows people to put them up earlier and enjoy their green foliage and pleasant scent for a longer period. This is the Christmas tree variety that lasts the longest.
How to determine what size the Christmas tree stand should be?
For small 3-4ft trees you can get a small cinco stand, which is 3" x 11" and can contain 3 litres of water. For firs which are between 5-7ft you should get a medium cinco stand, which is 5.5" x 14.5" and can contain 4 litres of water. For 8ft Christmas trees you should get a large cinco stand which is 6" x 19" and can hold as much as 7 litres of water.
How long does it take you to deliver the Christmas tree on the scheduled day?
We normally strive to deliver all Christmas trees in the early afternoon. However, do bear in mind that there's a four-hour arrival time frame.
Do you offer next day delivery of Christmas trees?
Yes, we do. However, being able to book a Christmas tree delivery service for the following day all depends on how full our schedule is. If there's an available slot, you can book it in.