Expert garden paving services in London
Patio laying & paving with various high-quality materials
All-in-one paving service: from levelling to pointing
Skilled, insured and equipped landscapers
Wide choice of materials & delivery, upon request
Quote after a professional survey & consultation
What the patio laying and driveway installation process involves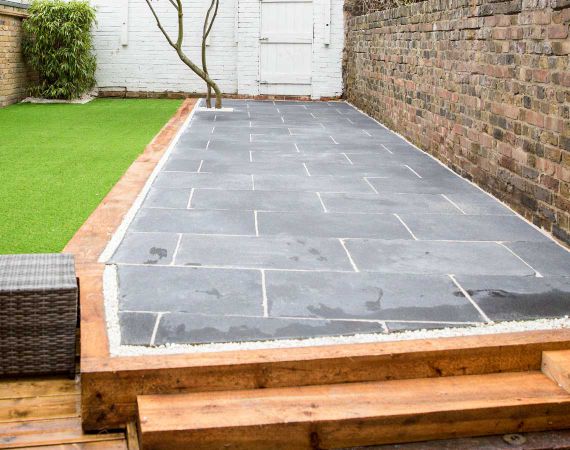 BEFORE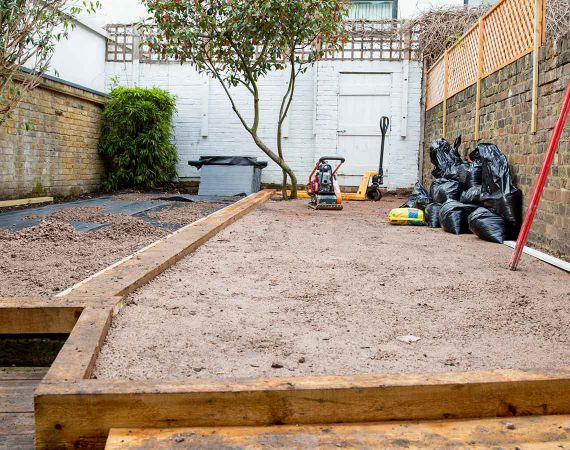 AFTER
We will send a surveyor at your property, whom you can discuss your project details and consult with. After that, you'll receive a no-obligation quote with the price of your enquiry. The paving projects that we do include the following steps:
Ground clearance - The specialists will remove all debris, old pavers or slabs and vegetation after they've marked the designated area. If any soil excavation work is needed, it will take place during this stage.
Site preparation - The site will be prepared using professional levelling techniques. The base can be laid only if the soil is firm and compact.
Membrane installation - A weed control membrane is then laid to prevent weeds from coming through in between the slabs.
Subbase installation - A layer of MOT-base is laid on top of the fabric and compacted to ensure that the surface is absolutely even.
Paving - The paving experts will neatly lay the slabs on the completely levelled subbase. After the necessary drying time has passed, the landscapers will wash the paved area and prepare it for pointing. Once, this job is done, you can enjoy your new patio or driveway.
Paving repair and maintenance tasks we can help you with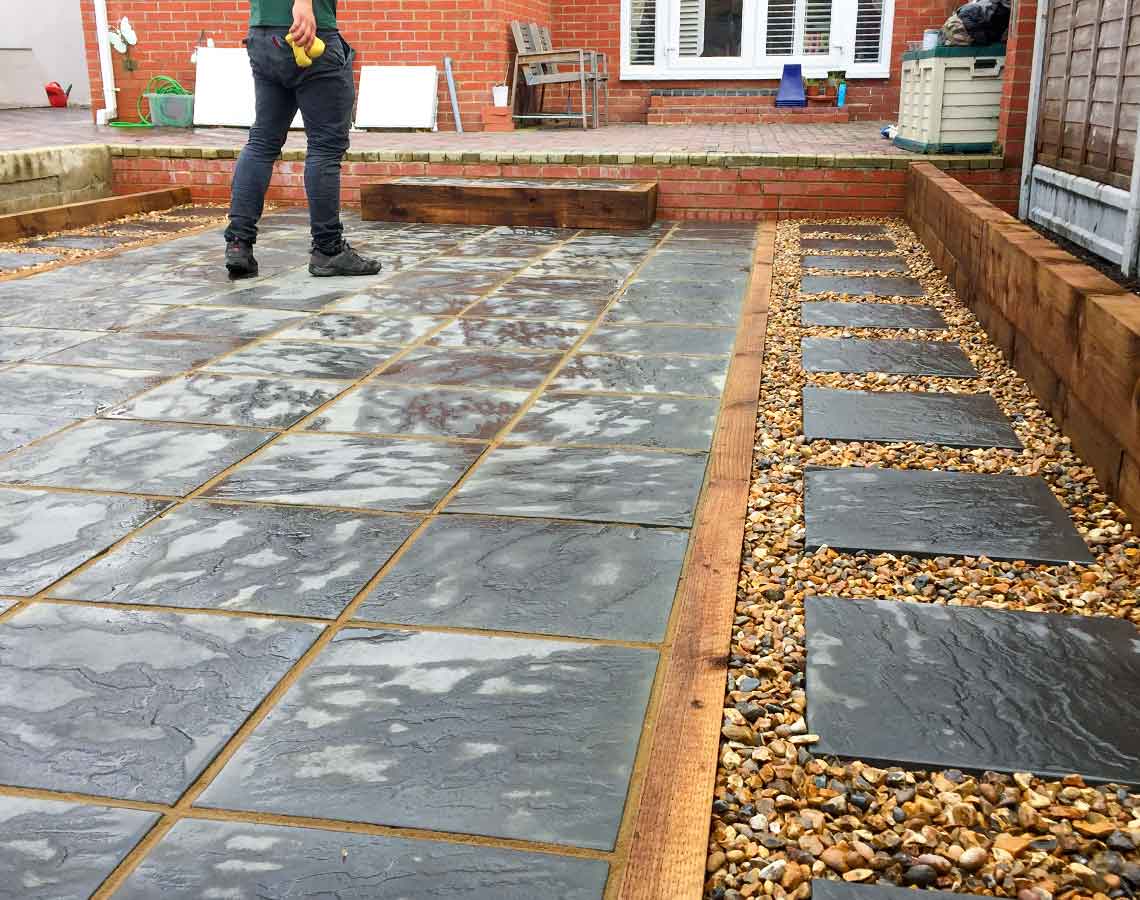 Like any other area in your garden, your existing or newly installed hard surface will require maintenance over time. Check out the following paving repairs and maintenance services we can assist you with:
We do regrouting and repointing of old pavings;
The landscaping experts can help you to complete a range of garden path, patio or driveway repairs, such as repaving damaged areas, replacing broken or loose paving slabs or block pavers, etc.;
Pressure washing services and weed control. This helps eliminate unwanted vegetation, moss, mould and dirt accumulation from your patio or driveway.
Paving services are suitable for any kind of property and can improve the curb appeal of your home, just like resin bound surfacing can. Don't forget that you can benefit from special deals on all our services for a year as well as other perks by joining our Fantastic Club.
Frequently asked questions
Q: What are your maintenance tips for my newly installed paved surface?
A: Driveways and patios require regular cleaning a couple of times per year. Hard surfaces can be easily maintained with some pressure washing. This helps to efficiently remove mud, mould, algae and other built-up dirt off your outdoor surfaces.
Q: What type of paving materials do you use?
A: We work with a wide range of high-quality paving slabs that you can choose from, including various types of natural stone - Indian sandstone, limestone, bluestone, granite, etc. You can also order block pavers for your project, which resemble concrete paving bricks that come in various sizes and colours as well.
Q: Do I have to apply for planning permission prior to the paving service?
A: No, that's not necessary. The paving materials are completely permeable and therefore, can be laid without planning permission. In cases when impermeable slabs are used for your paved area, another permeable surface, such as a lawn, will be used to direct the water to for proper drainage.
Q: How do you get rid of weeds between pavers?
A: We always lay a heavy-duty anti-weed membrane as part of the paving area preparation process to prevent weed growth.
Q: How much does it cost to install a patio?
A: Your project price is based on several factors that we take into consideration, such as materials cost, the workload involved and the size of the area that needs paving.
Have a specific gardening or plant-related question?
If so, click on "Ask now", submit your question, attach the appropriate images and press send. Your question will be forwarded to one of our Fantastic Gardeners who will get back to you with an answer ASAP. )
Some thoughts from our clients
Read more about landscaping
Read our advice on paving and landscaping